The Center for Gulf Studies at the American University of Kuwait will hold its third Gulf Studies Symposium (GSS) on 17-19 March 2017. The GSS is a meeting of worldwide Gulf scholars and researchers held biennially in Kuwait. Each symposium is based on a particular scholarly theme that is timely both to the region and to the field of Gulf studies. The theme of the 2017 GSS is "Mobilities and Materialities of the Gulf and Arabian Peninsula."
2017 Program
The Gulf and Arabian Peninsula (incorporating the GCC states, Iraq, Iran, and Yemen) has for centuries been settled, unsettled, and resettled through continuous patterns of migration and the systematic movements of people. Yet the people of this region are commonly fixed within one of two overarching sociological dichotomies: sedentary/Bedouin in relation to the citizenry (particularly before oil), and citizens/expatriates in relation to the overall population (after the advent of state citizenship laws). The two sides of each binary evoke contrasting states of mobility. Historically sedentary groups like villagers or townspeople (hadar) were tied to specific locales, while the Bedouin were nomadic tribes that wandered aimlessly across the region`s deserts. In the citizens/expatriates binary, the former are depicted as settled and permanent, whereas the latter are transient and temporary "guests." In reality, these sociological groups cannot be neatly reduced to such designated states of mobility. Historically, sedentary town-dwellers were extremely mobile: trading and sailing by sea to ports across the Indian Ocean for months at a time, and regularly relocating to towns with more favorable economic or political conditions. Bedouin tribes, meanwhile, were often tied to particular territories (called diras) and inextricably connected to rulers and markets in nearby towns. In present-day contexts, Gulf citizens are also mobile and transnational: they travel several times a year, have second homes elsewhere, study abroad, and so on. And expatriates-though not granted formal citizenship or even, in some cases, permanent residency-often remain in the Gulf for decades if not generations, belying their "temporary" status. Such binaries are not constructed organically out of ostensible facts, but rather are produced, maintained, and reinscribed through overlapping state citizenship, labor, and migration regimes.
This symposium proposes new ways of thinking about the mobilities of diverse groups that go beyond the aforementioned binaries and include subjects previously elided. These include: students, scholars, artists, diplomats, sailors, merchants, travelers and tourists, religious figures, pilgrims, refugees, slaves, and migrant laborers. The papers examine the processes that animate or delimit diverse forms of mobility; writings, narratives, and archives that index these mobilities; everyday power relations, governance systems, and geopolitics that configure and are reconfigured by these mobilities; as well as their broader sociocultural, religious, economic, and environmental implications.
The continuous and systematic movement of people to, from, and within the region creates a mutually-affecting engagement with, and leaves substantial traces in, the material world. The symposium also therefore examines the materialities of these mobilities. This includes the infrastructures, transportation networks/geographies, and various built environments that enable, constrain, or are produced by people`s movements. It also includes commodities, artworks, monuments, everyday objects, and other forms of material culture that expose (or omit) such mobilities.
The Gulf Studies Symposium is open to the public, though you must register in advance to attend as seating is limited. To register, go to: www.auk.edu.kw/cgs/gss
The GSS will take place in the AUK Auditorium (Liberal Arts Building).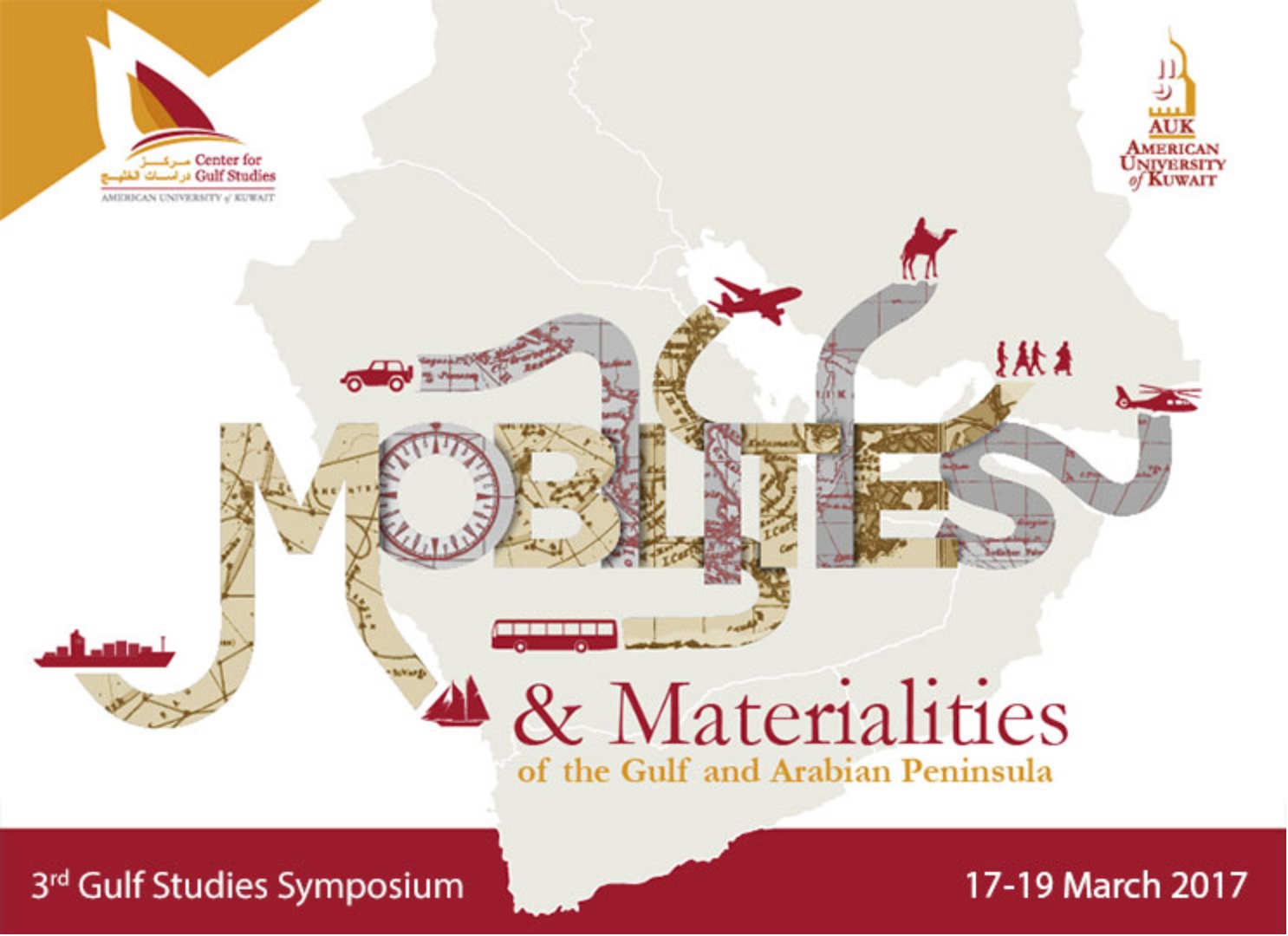 Day 1: Friday, March 17
11:30-12:15pm: Opening Remarks

12:15-1pm: Excavating Gulf Mobilities

This opening lecture discusses the long historical development of nomadic and settled peoples in the Gulf through an analysis of historical and archaeological evidence, and ties the patterns of migration and settlement in the region to wider patterns of integration, globalization, and trade.

Discussant: Antonia Stamos (AUK)

Robert Carter (University College London, Qatar), "Demography, Migration and Settlement in the Historical Towns of Qatar"

1-3pm: Maritime Mobilities Past and Present

This panel focuses on the historical and present-day movement of people across the region`s waterways. The papers analyze how transoceanic communities of varied sorts have socially, politically, and geographically navigated the waters of the Indian Ocean, with a collective emphasis on the flexible and fluid, but also highly regulated and contested, nature of maritime mobilities.

Chair: Jasmine Singh (AUK) / Discussant: Gholamreza Vatandoust (AUK)

Fahad Bishara (University of Virginia), "Monsoon Travelers: Space, Text, and Mobility Across the Indian Ocean"

Victoria Hightower (University of North Georgia), "Irregularities, Disturbances, and Piratical Undertakings: Mobility and Maritime Violence in the Lower Arab Gulf Emirates in the 19th Century"

Ahmed Makia (Independent Researcher), "Treading Gulf Waters"

Nathalie Peutz (New York University, Abu Dhabi), "In Dire Straits: Documenting Yemen`s Humanitarian Crisis and the Mixed Migration Flows of Refugees, Migrants and Returnees Crossing the Red Sea and the Gulf of Aden"

3-3:30pm: Coffee Break

3:30-4:30pm: Keynote Address

Dina Khoury (The George Washington University), "What`s in a Passport? Reflections on Documents on the Borderlands of Empires and Nations in the Persian Gulf, 1880s-1930s
Day 2: Saturday, March 18
9-10:30am: The Mobilities of Urban Infrastructures

This panel examines the diverse ways that the movement of people and cultures into and around the Gulf and Arabian Peninsula in the 19th and 20th centuries radically transformed the region`s urban landscapes, highlighting the impact of religious pilgrimage, immigration, and imported construction methods and materials on the built environment and its inhabitants.

Chair: Shareefa Al-Adwani (AUK) / Discussant: Lisa Urkevich (AUK)

Ulrike Freitag (Zentrum Moderner Orient, Berlin), "The Material Infrastructure of the Hajj in Jeddah, Late 19th and Early 20th Century"

Lindsey Stephenson (Princeton University), "Building a New Home: Iranian Migrations to Kuwait and Bahrain and their Contributions to the Built Environment, 1900-1950"

Matthew MacLean (New York University), "Building the Nation: A History of Rock, Cement, and Concrete in the United Arab Emirates"

10:30-10:45am: Coffee break

10:45-12:15pm: Mobilizing Modernity

This panel examines the discursive and material traces of the Gulf`s early oil modernity (1950s-1970s). It analyzes the circulation of the people, objects, ideas, and technological expertise that shaped the region`s modernization, and considers traveling materials such as postcards, films, magazines, and stamps as representations of its modernity.

Chair: Raymond Farrin (AUK) / Discussant: Farah Al-Nakib (AUK)

Nelida Fuccaro (School of Oriental and African Studies), "The Politics of Mobility and Materiality in the Making of Historical Petroleum Societies and Cultures"

Mai Al-Nakib (Kuwait University), "Traveling Postcards: Retracing Kuwait`s Modernity"

Wafa Alsayed (London School of Economics), "Sawt al-Bahrain (1950-1954): Transnationalism, Pan-Arabism and Modernism in a Bahraini Magazine"

12:15-1:15pm: Lunch break

1:15-2:45pm: The Transnational Flow of Modern Ideologies

This panel explores the transnational transmission of Arabism and Islamism in the context of the Gulf`s historical connections to the wider Arab world. The papers examine the flow of educational and intellectual influences into, across, and out of the Gulf.

Chair: Katherine Hennessey (AUK) / Discussant: Abdulrahman Al-Farhan (AUK)

Louis Allday (School of Oriental and African Studies), "From Egyptian `Rascal` to Saudi Arabian Diplomat: The Political Journey of Hafiz Wahba"

Courtney Freer (London School of Economics), "Islamism across Borders: Exploring the Egyptian-Kuwaiti Connection"

Talal Al-Rashoud (School of Oriental and African Studies), "Educating the Arab Nation: Kuwait`s Scholarship Program for Arab Students, 1953-1961"

2:45-3pm: Coffee break

3-4:15pm: Aesthetic Mobilities

This panel examines the movement of artists and their work across regional boundaries, as well as the infrastructures and institutions that enable, finance, and give visibility to this creative flow. The papers examine the circulation and exchange of aesthetic references and norms of cultural consumption across transnational networks.

Chair: Rosalind Buckton-Tucker (AUK) / Discussant: William Andersen (AUK)

Anahi Alviso-Marino (European Centre for Sociology and Political Science), "The Artist and the Archive: Geographies of Visibility in and around Kuwait"

Amin Moghadam (Princeton University), "Moving with Art, the Art of Moving: Transnational Cultural Flows Between Tehran and Dubai and the Shaping of New Materialities"
Day 3: Sunday, March 19
9-10:30am: Migratory Spirituality

This panel analyzes religious pieties, identities, and belongings among particular sects and migratory groups, and examines how material forms-such as churches, historical sites, and prayer stones-animate religious mobilities and mediate spiritual relations.

Chair: Mara Leichtman (AUK) / Discussant: George Irani (AUK)

Benjamin Crace (American University of Kuwait), "Singing the Lord`s Song in a Foreign Land: The Coptic Orthodox Diaspora in Kuwait"

Attiya Ahmad (The George Washington University), "The Spoils of War: Halal Tourism Aspirations and Material Counterpoints"

Thomas Fibiger (Aarhus University), "Material Mediation: The Case of the Turba Prayer Stone as Traveling Soil"

10:30-10:45am: Coffee break

10:45am-12:15pm: Materialities of Power and Resistance

This panel addresses the materialities and geographies of power by which official authorities-from imperial powers to the modern state-have attempted to manage and control the movement of people across deserts and everyday urban space, and that have enabled some mobile communities to resist the reach of state control.

Chair: Roman Kulchitsky (AUK) / Discussant: Arby Siraki (AUK)

Carl Bryant Shook (University of Chicago), "Raiders, Refugees, and Resettlement: Managing Tribal Populations in the Kuwait-Nejd-Iraq Border Zone, 1924-1925"

Zina Sawaf (Graduate Institute of International and Development Studies, Geneva), "Mobility and Materiality in Riyadh, Saudi Arabia: Identification Cards, Everyday Life and the State"

Hassan Hussain (University of North Georgia), "Between Hadar and Badu: The Mesopotamian Marshes as Sites of Refuge and Resistance"

12:15-1:15pm: Lunch break

1:15-2:30pm: The Mobilizing Effects of War

This panel focuses on the Iraqi invasion and occupation of Kuwait to examine the mobility and materiality of war and its aftermath, with a particular emphasis on the lasting effects of memories of the invasion recorded in material traces of war debris, in divisive official narratives, and in personal remembrance.

Chair: Inas Mahfouz (AUK) / Discussant: Pellegrino Luciano (AUK)

Christopher Ohan (Texas Wesleyan University), "Mobility and Reconfiguration Resulting from the Iraqi Invasion of Kuwait"

Conerly Casey (Rochester Institute of Technology), "War Debris and the Mobilizing of Presence"

2:30-2:45pm: Coffee break

2:45-5pm: Roundtable: New Perspectives on Labor Migration in the Gulf

This roundtable tackles the most pervasive issue concerning mobility in the Gulf and Arabian Peninsula today: the transnational flow of migrant labor into the region. An increasingly familiar topic of scholarly analysis, the papers introduce under-researched aspects of the labor migration system, such as the historical production of labor hierarchies, proposed reforms to the kefala system, the role of transnational labor brokers in migrant-sending states, and the lived experiences of the laborers themselves. The paper presentations will be followed by an extended general discussion on the topic with all symposium participants.

Moderator: Attiya Ahmad (The George Washington University)

Andrew Leber (Harvard University), "Skill Levels and Migrant Labor Reform: Evidence from the GCC"

Andrew Gardner (University of Puget Sound), "Profiteers and/or Enablers? Mobility and Contemporary Labor Brokers in the Indian Ocean World"

Andrea Wright (The College of William and Mary), "From Slaves to Contract Workers: Genealogies of Consent in the Production of Labor Hierarchies in the Arabic-speaking Persian Gulf"

Mohanalakshmi Rajakumar (Independent Researcher), "On the Stage and the Page: Articulations of Indian Identity in the GCC"

5-5:30pm: Closing Remarks by Farah Al-Nakib (AUK)