This year marks Jadaliyya's tenth anniversary. We at Jadaliyya are incredibly excited to pass this mile marker, and are even more excited to consider where we will be going next. We are more charged than ever, as our teams and platform have developed beyond our wildest imagination. More pressingly, the region, and the world, are always in search for/need of better knowledge production and, more so, change. 
In the ten years prior, Jadaliyya has gone through many phases. We actually stopped counting after phase five in 2015, when we were jokingly considering the development of a standing army. Instead, we collaborated with our internal and external networks to build the Political Economy Project, now enjoying its fifth year of knowledge production, four Summer Institutes (precluding the COVID-19 summer), publications of the first-rate, including an upcoming edited volume from Stanford Press, a page on Jadaliyya, a fledgling bibliography, and four book prize competitions. This is but one example of engagement that Jadaliyya and its team(s) embarked on during the past decade.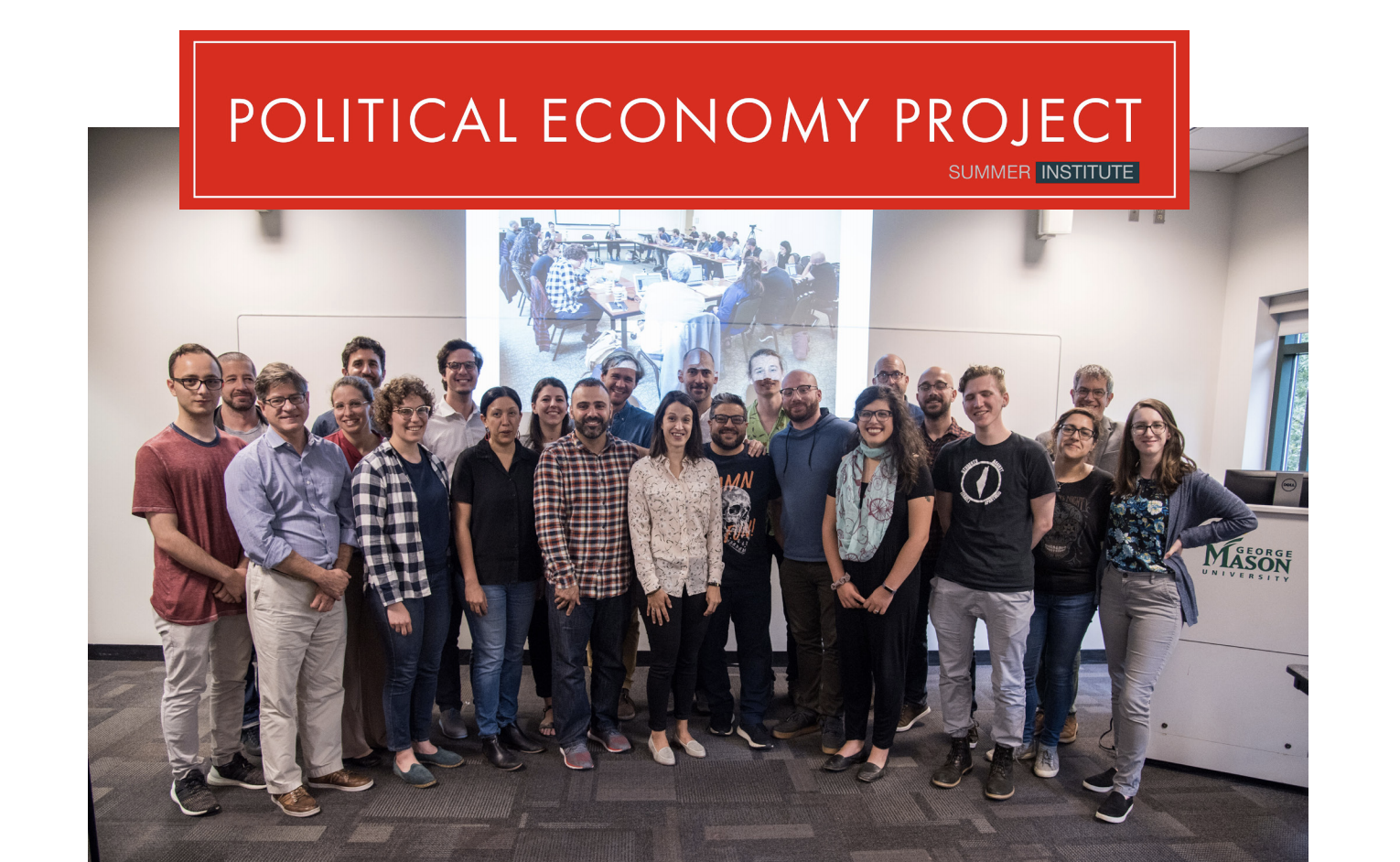 In the first years, Jadaliyya experienced an early heyday with our commitment to rigorous, critical, and authentic coverage of the Arab Uprisings, which combined scholarly analysis from near and far with voices on the ground who were experiencing the revolutions as they happened. Co-editors situated across the world stayed up late into the night to keep apprised of events happening almost too quickly to document otherwise.
The years between 2014/15-2017, depending on the case involved, were characterized as being relatively slower and quieter, shaped by mass counter-revolution and power consolidation within the authoritarian structures that depressed the liberation-seeking social movements of the Arab Uprisings. In these years, we shifted our attention to complementary projects, in addition to keeping up with on-the-ground coverage and critical and cutting-edge analysis: we embarked full-force on what we called a "Pedagogic Turn," with more intentional focus on providing resources and analysis that would have staying power and be a reference to researchers, journalists, and educators alike.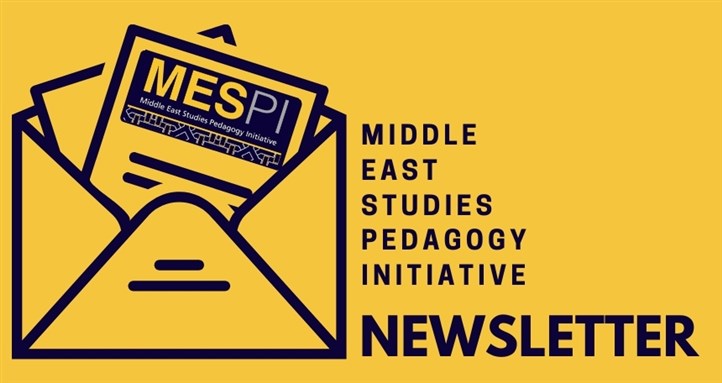 Now we—and the region—are again in an era of activity, activism, and agitation. Since 2018 protest movements across the Middle East and North Africa have again erupted with activity and equipped with ample "political learning" as we observed, for instance, Algerian protesters expressly rejecting the slippery slope of external intervention. The 2019 Hirak in Algeria that toppled President Bouteflika (ongoing until today) is just one principal example. Others include the 2019 Sudanese revolution that deposed President Omar al-Bashir, Lebanon's October 2019 Revolution that mobilized millions, the Great Return March in Palestine, and the years-long ongoing mobilizations in Iraq. There are also the smaller ones, like the periodic Jordanian teachers' strikes, protests in Iran, the Hirak in Morocco, among others.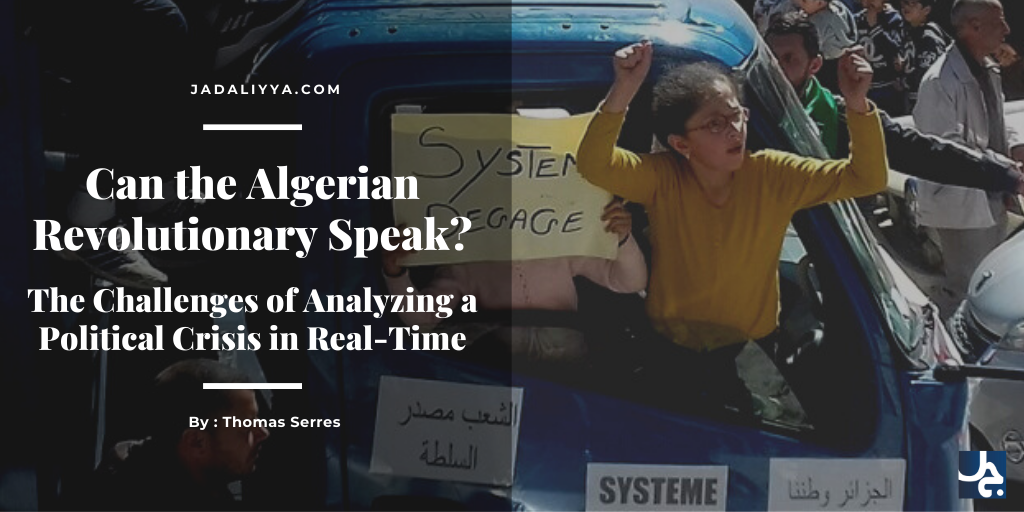 In this post, pages across Jadaliyya reflect on how they began and where they are now. Take a look below at accounts from our team, updates on our projects and initiatives from this year, and more. As always, we are excited to continue to grow and to continue providing analysis on the region in ways that combine local analysis, scholarship, and advocacy for audiences across the world. Keep with us!

A number of important developments arose this year for Jadaliyya. Perhaps most excitingly, in year ten, Jadaliyya found itself hosting three new remarkable pages: Iran, Environment, and Photography and Audiovisual Narratives. Additionally, two pages enjoyed a revamp of its teams and mission, including Egypt and Syria, with statements or articles that signify either the renewed focus of the page or a near-comprehensive update. 
Alongside a number of important social mobilizations that occurred this past year, Jadaliyya further distinguished itself by its in-depth and organic coverage of the protests in Algeria, Lebanon, and Iraq, solidifying our commitment to combining informed analysis with on-the-ground knowledge and experiences. 
This past year, Jadaliyya teams engaged in significant collaboration across country, regional, and topical pages, a development that buttresses its mission of interdisciplinary knowledge production. The revamped Quick Thoughts page has often been at the lead on this. Some recent instances include Quick Thoughts: Ziad Abu-Rish and Maya Mikdashi on Lebanon's Multiple Crises; Quick Thoughts: Mona Harb on the Aftermath of the Beirut Explosion; and Quick Thoughts: Jamie Stern-Weiner on Anti-Semitism and the British Labour Party. Jadaliyya has also hosted a number of important roundtables, including the Special Bouquet on COVID-19 and Social Mobilization; Middle East History in the Time of COVID-19: A Roundtable on Disease, Environment, and Medicine; Roundtable on Potential IMF Involvement in Lebanon; Roundtable: Considering the Past and Future of UNRWA; and Roundtable: Introduction: The Price of the Exchange. 
Additionally, in year ten, Jadaliyya hosted an inordinate number of posts related to pedagogy in its collaboration with the Middle East Studies Pedagogy Initiative. The same occurred in terms of audio-visual content on which Jad collaborated with Status Audio-Visual Journal. Similarly, Jadaliyya more regularly featured content from Arab Studies Journal. Relatedly, given the unique challenges that come with living in the time of COVID-19, Jadaliyya published a number of posts with open access material, such the Arab Studies Institute Summer Reading and Listening Projects Roundup, The Arab Studies Institute's Open Access Resources for Teaching the Middle East, and Arab Studies Journal Announces Open Access Spring 2020 Issue: Editor's Note, Table of Contents, & Download Link.
With the onset of the pandemic, Jadaliyya, along with Status/الوضع Audio-Visual Magazine, upped its online and live streaming of events, panels, and lectures such as Bassam Haddad Interviews the Co-Editors of Jadaliyya's New Photography and Visual Narratives Page, the Battle of Algiers Film Discussion, Roundtable Conversation: Twenty Years After Bashar Al-Asad's Succession, and Conflict Economies in Syria: Roots, Dynamics, and Pathways for Change. Bassam Haddad Interviews Omar Dahi and Rabie Nasser. 
We are very excited to announce our new regular broadcast, Live with ASI: A Month of Knowledge Production, hosted by MK Smith and Bassam Haddad. It is a new monthly broadcast program that showcases recently published content from the Arab Studies Institute's numerous branches, including the Arab Studies Journal, FAMA, Quilting Point, Jadaliyya, and Tadween Publishing. This content includes articles, reviews, pedagogical resources, podcasts, and more. Also featured in the broadcast are brand new interviews and discussions with various authors and contributors, often live. We have held two broadcasts so far, starting in September, covering the summer of 2020, and for the first time in our history broke more than two hundred thousand views! Most importantly, this new initiative is intended both to bring our teams from different branches/platforms together, and to present our knowledge production under the umbrella of the Arab Studies Institute for the first time since 1992.
All of the materials addressed in the Live with ASI broadcast are listed almost immediately after the program in a digest that is published on Jadaliyya, categorized by themes. Also listed are additional recent materials we highly recommend. We are constantly developing the broadcast and hope to share more throughout the year. For a snippet of the first show, visit this link.

Finally, Issue 7.3 of "Jadmag: Jadaliyya in Print" is now live! Since the autumn of 2018, Jadmag has been published as a seasonal subscription-based magazine in both hard-copy and electronic formats. This issue of the Jadmag comes with two center-piece articles. In the essay "Beyond Paralyzing Terror: The 'Dark Decade' in the Algerian Hirak, Elizabeth Perego discusses allusions to the "archived past" of the 1990s during the mass mobilizations that began in the country in 2019 and have continued into this year. In this issue's second center-piece essay, Ebshoy Magdy examines narratives around poverty in Egypt in relation to the country's two cash support programs, Takaful and Karama. Additionally, this issue features a bundle of essays contextualizing the Lebanese and Iranian uprisings.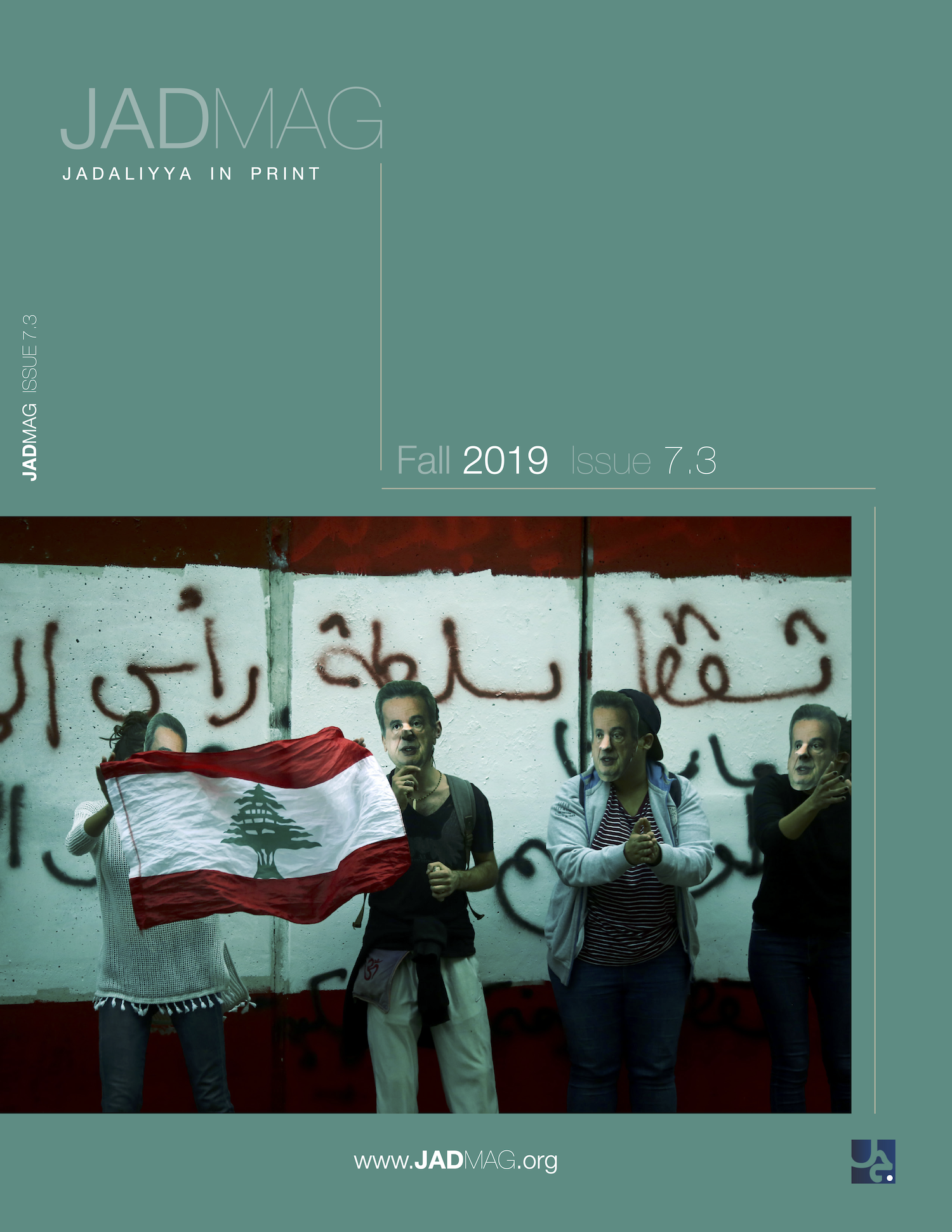 Arabian Peninsula
The AP page, launched in 2012, provides coverage of the GCC states, Yemen, and the Persian Gulf. We cover a range of topics relevant to the region, including labor migration, activism, urban development, issues of human rights and political repression, and foreign policy. The page also includes insightful historical articles that place the region into larger imperial and Indian Ocean histories and exchanges. Soon after launching, in 2013, the AP page published a roundtable called "Theorizing the Arabian Peninsula," which included commentary from several scholars who have been pushing Gulf Studies in new and exciting directions. We continue our interest in cutting edge scholarship by regularly publishing interviews with experts and highlighting new books, conferences, and art exhibits. In recent years the page has been a source of excellent analysis around the war in Yemen, the GCC crisis and blockade of Qatar, and, in 2020, on the impacts of COVID-19 in various Gulf countries, such as Qatar, Yemen, and Saudi Arabia.
Cities
The Cities page was launched in September 2013 at a relatively hopeful moment in the era of social and political mobilizations in many cities of the Middle East and North Africa region. Eager to provide a critical understanding of the processes of spatial production and urban life, the Cities page has been instrumental in enriching knowledge production about the Middle East, and in establishing cities and regions as distinct objects of study through which intersectional processes and practices can be unraveled. Pieces we have published over the past years have informed readers on how conflicts and wars reconfigure cities' structures and people's agency, how urban politics and service provision territorializes and distinguishes sites, how hierarchies, why economic geography matters to inclusive growth, how inequalities and power are inscribed in propertied landscapes, and how gendered socio-spatial practices transform urban neighborhoods. In 2018, we published the Cities JadMag featuring a selection of articles that discusses these matters richly informed by grounded methodologies of data collection that provide nuance and rigor to the analysis. We still aim to contribute to a critical urban scholarship that informs urban activism and reflective practice towards just, inclusive, and environmentally sustainable cities. 
Critical Currents in Islam
In launching the Critical Currents in Islam page in 2013, we set out to designate "a space for the study of Islam within Jadaliyya to examine the ways in which Islam is but one of a multiplicity of factors that interact in the cultivation of political, economic, and sociocultural arrangements, often yielding varied outcomes across the breadth of Islamic societies." Since that time, our diverse range of published work has attempted to locate the intersections of Islamic thought and practice within the Middle East region and far beyond, often in recognition of the most pressing issue areas and points of contention within the academy and across society at large. These include interviews with leading scholars on Islamic thought, Islamic legal history, and its implications for contemporary political discourse, and a series of articles that deconstruct both the contours of the Islamic State phenomenon and the Western discourses surrounding it. 
Other pieces explored the challenges of navigating the increasingly fraught corridors of state power for Muslim minorities in the United States, as well as the destructive consequences of the US "war on terror" both at home and abroad. As we look ahead to the coming year, we aim to continue engaging with critical scholarship on issues of pressing concern, such as an upcoming roundtable on state-sponsored Islam after the Arab uprisings, a fitting complement to our prior roundtables on political Islamism during and after the uprisings. Recognizing that it is now more crucial than ever to develop critical resources for educators, we also aim to expand our pedagogical content, expanding our existing collection of essential reading lists and critical syllabi for teaching Islam in the classroom. 
Iran
Jadaliyya's Iran page was launched in September 2019 to provide space for in-depth analysis about Iranian history and politics. The editors of the page were mindful that they were launching the page in an outlet that had hitherto been centered around Arab studies. Yet this apparent incongruity was an invitation to promote scholarship unrestricted by nationalist historiography. The commitment above is evident in the roundtables the Iran page has hosted on Iran's domestic politics and political economy, on the backdrop and reverberations of Qasem Suleimani's assassination, and on Iran, Iranians, and prison politics. The page is also an outlet that provides space for political analysis that keeps apace with the fast tempo of current events, including the fuel hike protests in late 2019 and the subsequent descent into violence, the assassination of Qasem Suleiman and the downing of Flight 772, and Iran's response to COVID-19. The fast tempo of current events does not dictate the content the page publishes. It has published pieces on the contemporary politics of class and gender, as well as criticism of representations of Iran in international headlines and among policy wonks. The page has provided reflection on the enduring memory of the 1979 Revolution as in the "1979 Generation" series where co-editor Manijeh Nasrabadi interviews Iranian feminists who lived through 1978-1979; as well as critical historiography of 1979 that moves beyond national borders. The page will continue providing timely and enduring analysis of Iranian history and politics. 
Egypt 
The Egypt page was the first specialized page that Jadaliyya launched. It was born in November 2011 in the midst of an uprising against Egypt's military rulers and the lead-up to the first parliamentary election after the downfall of President Hosni Mubarak. For years, the Egypt page took the helm here on Jadaliyya, and often brought our readers play-by-play reports and analysis when the situation(s) compelled us. As the years went by after 2013, writing on Egypt regressed with the dwindling spaces for voice and action. Motivated by renewed protests in Sudan and Algeria, Iraq and Lebanon, and in Egypt itself, albeit to a lesser extent, the page was relaunched last November with the aim of shedding light on salient questions confronting observers of Egypt.
Environment
While the idea for a Jadaliyya Environment page had been lingering in the ether for years, the coronavirus pandemic brought a new urgency to the study of the human relationship with the rest of nature. The page was born in that context, a platform for critique amidst an immediate crisis. Often framed as secondary, the environment—as a lens—has a unique ability to amplify diverse voices and link intersectional struggles for justice. Every aspect of human life has links to the environment, including affect, art, culture, and politics. An environmental framing helps us weave together several lines of inquiry prominent in the broader Jadaliyya project.
Our page launched fortuitously on the fiftieth anniversary of Earth Day, with a series of essays, Status Environment in Context audio magazine episodes, New Texts Out Now, and an Essential Readings list that together theorized from the MENA what environmentalism and environmental justice means. Since then, we have published on a myriad of topics cross-listed with many of Jadaliyya's country and regional pages. We have also had a series of pieces offering critical environmental perspectives on the COVID-19 pandemic. Our roundtable on COVID-19 in historical perspective offered new understandings of today's crisis through environmental history. Other pieces offer local-level analysis of global environmental crises, such as a recent interview analyzing the impacts of water scarcity, climate change, and COVID-19 together in Yemen. We are particularly excited about the Status Environment in Context series—episodes so far have focused on cement production as a form of displacement in Iraq, green colonialism in the occupied Golan Heights, and the role of Islamic financing in "green development" funding to combat climate change. Upcoming episodes will feature stories from Egypt, the United Arab Emirates, Tunisia, Palestine, and Iran. We invite readers to submit pitches, articles, and ideas for interviews to environment@jadaliyya.com—whether it is a regional exploration of interconnected environmental issues, or a small case study that analyzes a specific environmental issue in the region to expose larger trends, we welcome your ideas!
Law and Conflict
This page features articles on war and armed conflict, international law, human rights, war crimes, and issues related to global institutions like the United Nations and the International Criminal Court. Co-editor Lisa Hajjar writes that "one of the great privileges of my life is to work with the incredible, dedicated, smart, and funny people who are Jadaliyya. The vast amount of topics we cover—and the fact that it is free to all—and is produced by volunteer labor makes this a special enterprise. And the fact that Jadaliyya is now ten years old is a testament to the writers, readers, and editors."
Maghreb
Over the past few years, the Maghreb page has provided extensive coverage of social movements and revolutions in Tunisia, Morocco, and Algeria in three languages (Arabic, French, and English). Since February 2019, our team has notably worked to develop resources on the Algerian Hirak (notably a two-part glossary) and strove to support silenced and imprisoned activists on the ground. The page has also continued to document the ongoing struggles and new forms of cultural production in the region. Recent articles on cinema, TV shows, radio, and photography have notably investigated the various aspects of the coronavirus crisis. In addition, we have also published various tributes and historical analyses following the passing of major intellectual and political figures (such as Albert Memmi or Ahmed Ben Salah).
In 2019-2020, the Maghreb page expanded its number of contributors and allowed for the translation of their works. Given the need to propose a more in-depth and original look at the region, our team of editors now includes four members, and a new intern has recently joined, who will be instrumental in preparing a monthly media roundup that will collect and present the most relevant, original and insightful news coming from the region. Finally, the Maghreb page is also preparing a new project to give voice to the activists targeted by repressive policies and support trans-Maghreb and cross-Mediterranean solidarity initiatives.
NEWTON
NEWTON (New Texts Out Now) is a Jadaliyya feature in which authors and editors of new publications are asked a standard set of questions about their book. It provides a space to discuss the arguments, methods, challenges, and anything else that our contributors would like to include that they may not usually discuss in similar formats.
It is one of Jadaliyya's most popular and searched pages and it brings new publications to the attention of our broad and varied audience, as well as being a resource for scholars, students, and teachers.
Over the last few years, we have been building a big network with authors and editors with new publications, getting regular NEWTONs in twice or three times a week, and producing some exciting pieces with lots of coverage and discussion.
Some notable examples (among many!) include: Adam Hanieh's Q&A on Money, Markets, and Monarchies: The Gulf Cooperation Council and the Political Economy of the Contemporary Middle East; Noura Erakat on Justice for Some: Law and the Question of Palestine; Robert Vitalis on Oilcraft: The Myths of Scarcity and Security That Haunt U.S. Energy Policy; Amr Adli on Cleft Capitalism: The Social Origins of Failed Market Making in Egypt; Laleh Khalili on Sinews of War and Trade: Shipping and Capitalism in the Arabian Peninsula; Ali Abdullatif Ahmida on Genocide in Libya: Shar, a Hidden Colonial History or Marwa Daoudy on The Origins of the Syrian Conflict: Climate Change and Human Security.
NEWTON-ed books, articles, series, and journals cover topics far and wide—from diaspora and migration studies, race relations, and war and conflict, to trade and economy, or analyses of religious issues or hagiographies. Most recently, we collaborated with the new Environment page to produce some NEWTONs on new works such as On Barak's Powering Empire: How Coal Made the Middle East and Sparked Global Carbonization or Gökçe Günel's Spaceship in the Desert: Energy, Climate Change, and Urban Design in Abu Dhabi.
Since last year, we have begun synthesizing and coordinating NEWTONs much more across ASI and MESPI, which is great and looking to see what the next few months hold with regards to deepening this interconnection. And in general, NEWTON is looking forward to 2021…
Palestine
Since its launch in 2010, the Palestine page has been a site of robust debate and critical analysis. Given the existing and impressive independent media on Palestine, Jadaliyya co-editors took the opportunity to curate more specialized content with an emphasis on knowledge production. This has included reviews of new books and scholarly articles as well as stand-out pieces regarding the politics of citational practice. Its analytical exchanges on gender, the role of law, racism, and historiography, have established the page as an open space where all ideas, regardless of political orientation, have the opportunity to get airtime. The page publishes in Arabic and English and multi-media sources that include audio-visual content, artwork, poetry, literary reviews, roundtables, reports, media roundups, Quick Thought interventions, interviews, thematic bibliographies, and long-form essays. In doing so, the page has struck a unique balance between timely interventions in hectic news cycles and timeless thought pieces relevant to the academy as well as popular discourse. Year ten has been no different for the Palestine page as it continued to provide a space to mediate on the present moment in Palestine with an appreciation for material history and contingent, possible futures.
Quick Thoughts
Jadaliyya's Quick Thoughts page was launched in 2014 to provide context and background on issues that are, or should be, in the news. Produced in interview format with a relevant specialist or participant, it enables Jadaliyya to respond to developments more rapidly than the modus operandi of the website's country and thematic pages. Since launching, QT has addressed a broad range of issues, both within the region and internationally. It has also developed into a mix of written, audio, and video interviews. 
During 2020 QT ramped up production to keep abreast of developments during the pandemic. Among the issues addressed have been the crises in Lebanon and the Persian Gulf, Israeli annexation, environmental racism and the COVID-19 pandemic, and executive overreach in the United States.
Refugees and Migrants
The Refugees and Migrants page (RAMP) was launched in September 2018 with the idea to encourage us to re-think how we conceive the movement of people within the twenty-first century. The page includes refugees, internally displaced populations, and other types of forced, survival, or economic migrants moving into and out of the Middle East and North Africa. Thus, with geographic content from all over the world, the RAMP page seeks to highlight material in concert with other Jadaliyya pages, and address issues specific to refugees and migrants. RAMP content features a monthly media round-up in English and Arabic (and now with a COVID-19 section), and the articles published address issues concerned with law, citizenship, borders, rights, politics, the arts, and history. In particular, RAMP encourages writing that includes the approaches and perspectives of refugees and migrants in understanding the local and global structures that make up our lives, in advocating for refugee and migrant rights, in developing better policies, and in reframing narratives about refugees away from seeing them as crises or problems.
Resistance, Subversion, and Mobilization
As the launch post for the page notes, "The Resistance, Subversion, and Mobilization Page chronicles daily acts of resistance and subversion in contemporary Arab societies and beyond. All forms of resistance and subversion to political, economic, social, or cultural forms of exploitation will be of interest. This includes resistance to authoritarianism, occupation, imperialism, and social norms, and the many ways these are subverted."
In the seven years since it was launched, the page has kept a close eye on acts of protest, social mobilization, and rebellious expression throughout the region. This past year, however, the page has moved onto a new publishing model that emphasizes collaboration between and among the pages and with experts outside of the dense Jadaliyya network. With the launch of the Special Bouquet on COVID-19 and Social Mobilization in August 2020, which combined a roundtable with discrete articles focusing on how COVID-19 has impacted people's global ability to mobilize, we have begun our new publishing model. These special bouquets will be published seasonally, each focused on a new topic. We look forward to continuing to build on this important work in the years to come.
This was another busy year for the Syria page and its co-editors on Jadaliyya. In early March 2011, the Syria page co-editors published a report on a bizarre incident of protest in Damascus' Hariqa quarter, near Souq al-Hamidiyyah, commenting on whether this is a first tremor, triggered by the uprisings in the region, notably Tunisia and Egypt. Soon afterwards, prior to the recognized emergence of the uprising in mid-March, we published a couple of articles addressing the contentions that Syria, i.e., the regime, is going to fall next, after Egypt—notwithstanding the fact that Mubarak's ouster never really constituted a regime fall. We contended that though there is so much to protest in Syria, the other side of the equation, the regime, is not likely to have the same experience of its president's fall as the other states because of its internal dynamics and its allies. This had angered several observers who conflated analysis with wishful thinking. Almost ten years after, the regime and its head are intact, though embattled and decrepit, as well as maligned even by its former supporters who now have no one to blame except their own leaders which they favored in what they perceived as a lesser evil context.
Syria
As we look to conclude another busy year from the Syria page and its co-editors on Jadaliyya, we also take the time to look back on our production during the previous decade. In early March 2011, the Syria page co-editors published a report on a bizarre incident of protest in Damascus's Hariqa quarter, near Suq al-Hamidiyyah, commenting on whether the protest was a first tremor of unrest in Syria, triggered by the uprisings in the region, notably Tunisia and Egypt. Prior to mid-March 2011, we published a few articles critical of contentions that the Syrian regime would be the next to fall, after Egypt and Tunisia, despite the scale of change in those two countries turning out to be less than anticipated initially.
The Syria page unequivocally supported the Syrian uprising throughout the early months by publishing a series of articles documenting the uprising through analytic pieces and the accounts of insiders. The wide variety of submissions we received and published, including personal narratives, a series of journal entries, and analysis, came to be known as staples in the reporting on Syria at the time. As the scene in Syria began mutating, ultimately turning from a fight for freedom into a proxy war, we began publishing critiques of the transformation and of the opposition groups and individuals that either supported the divergence from the original sentiments and principles of the revolution, or remained silent.
The increasing financial, political, and military dependence of various opposition groups on foreign powers and fighters, the exclusion and smearing of alternative opposition groups that supported neither this lack of autonomy nor militarization, and the emergent lack of democratic process and transparency within the external opposition all led us to believe that the uprising had shifted gears and goals, even if no one had intended it to change in the way it did. It appeared more than likely that the regime would be able opportunistically to exploit what had resulted to its advantage—as it did—and proceed all the more ruthlessly to eliminate any force fighting against it, no matter their backers. The regime had backers of its own, which were always more committed to the regime than the Friends of the Syrian Uprising were to the cause. For some of the same reasons noted above, our analysis once again angered some observers, a sign of the triumph of frustration over sobriety and a comprehensive analysis. We forged ahead based on a dedication to fundamental change in Syria in the direction of freedom, autonomy, and inclusiveness—all of which were largely negated by the emerging armed rebel groups who spearheaded the battle and sidelined the early civilian revolutionaries as they proceeded to incorporate the bidding of their patrons at the expense of emancipation and even replicated some of the regime's horrific methods.
Unfortunately, the main victim of these transformations was ordinary Syrians, who continued to be pummeled daily by the array of fighting forces that had emerged in or descended on Syria, with the regime taking the lead. The calamity that had befallen the country remained the focus of the Syria page on Jadaliyya, as we covered developments play by play on a weekly, and often daily, basis (noting in particular here the long thread on "The Battle for Aleppo").
This past year, our coverage of Syria focused on the quick decline of all things therein, from the advanced state of institutional atrophy, the misery of refugees, and the consequences of the myriad interventionist forces and states fighting in Syria to the horrific social and economic conditions that have left Syrians bereft of even the basics for survival, all under the continuing threat and spread of COVID-19. We celebrated the most recent book by Professor Lisa Wedeen, one of our page co-editors, and interviewed her about the book's contribution to making sense of the Syrian conflict. Our co-editors collectively wrote a "taking-stock" piece that surveyed the Syrian landscape and some of the major points of debate as of spring 2020 and urged renewed engagement with the country, which at least in the Western media had fallen out of the news, at least in western media. These pieces were followed by two widely viewed webinars on the twentieth anniversary of Asad senior's death and the takeover by his son Bashar in 2000. Just as importantly, we added to our distinguished and growing list of publications in Arabic—discussing border policy, international immigration sentiments, film, photography—and we are proud that our growing Arabic-language readership is approaching the size of our English-language audience.
We continue to publish, for the tenth year, our recurring media roundup on Syria, as well as the more recent report, Syria in a Week, that chronicled important developments in Syria on various levels, both in Arabic and English. These are some of the most comprehensive compilations available on the country and represent invaluable resources for anyone trying to dig through the mountain of information and reporting about the conflict. 
We have plans going forward. They include trying to make sense of the mayhem that befell, or we should say that continues to afflict, Syria. The long durée is part and parcel of such an approach, allowing us to look beyond the immediate and the sensational, while providing some respite from reporting exclusively on devastating, deeply saddening news.
Turkey
The Turkey page was launched by Jadaliyya in the summer of 2013 in the midst of the Gezi uprising. We launched with an amazing series of submissions including everything from eyewitness testimonials to on-the-spot analysis of the immediate meaning and long-term implications of the protests. Our goal was and remains to generate new critical conversations and to expand and influence the coverage and analysis about Turkey in the English-language media, as well as publishing in Turkish. From those origins, we have branched out into a page that serves as a forum for critical scholars from Turkey—a sector that has come under increasing pressure with every passing year. As the spaces for critical voices and action have become more perilous in Turkey, we have redoubled our efforts to provide a platform to the scholars, activists, and researchers that continue the essential work of chronicling and analyzing events in the country and its diasporas. We regularly translate some of the most compelling pieces being written by dissident voices in Turkish to make them available for English-speaking audiences. And we are constantly striving to expand our project to encompass additional collaborative forms of critical knowledge production. For an overview of the Turkey page's coverage since 2013, see Critical Public Scholarship in Times of Uncertainty: Reflections on Editing Jadaliyya's Turkey Page since 2013. As an example of a recent initiative, this fall we launched a special feature on Turkey's Solidarity Academies, which represent the ongoing efforts to resist repression by organizing collective intellectual projects that bring scholars and students together outside of the heavily-policed confines of institutional academia in Turkey.
Keep up with how we've developed throughout the last ten years.