Introduction

Without the traditional hoopla, we celebrate Jadaliyya's eleventh year this fall. As proud and fired-up as we are, we realize we need to tone down the yearly festivities we exercise on this occasion. After so many years of knowledge production, engagement, and networking, we will be satisfied with a simple anniversary both to share what transpired and to thank our readers and team for transporting us to another year.
Surely this past year was another tough one, replete with social and political challenges globally and regionally, and riddled with a seemingly less debilitating, but ongoing, health pandemic. Still, we managed to take this publication to new heights in terms of our geographic and topical coverage, from uprisings in Sudan and Algeria to the environment and digital gaming that are engulfing the region's youth. We have also seen the impressive resurgence of the Arabic section, with an expanded team, readership, and a constantly growing network of authors, mostly residing in the region.
Perhaps most extant is our dramatic foray into the world of live online broadcasting, the preferred and efficient way to bring interlocutors and knowledge production together in the absence of in-person activities. Not only did we join the myriad organizations in doing so, but we were fortunate to be in the lead, given the nature of our cyber presence all along. We were ready to go from the get-go! Our community of educators, researchers, and institutions knew it, and wasted no time in reaching out to the Arab Studies Institute, Jadaliyya's mothership, to collaborate, coordinate, and cosponsor events, ranging from book talks to involved panels, workshops, and conferences online. We were thrilled and enriched.
Below is a list of select (yep) projects and knowledge production that made their way to the pages of Jadaliyya this past year. Our various teams across more than twenty geographic and topical pages were pleased to produce a number of roundtables, ground-breaking articles, audio-visual material and podcasts, and more. Delve into our expansive catalog at Jadaliyya, as well as read updates from our various sister platforms at the Arab Studies Institute.
You may also check out our last two episodes of Live with ASI in which we feature some of this material with live guests here and here.
As always, we would like to leave you with our gratitude for reading and supporting Jadaliyya, and with the same old promise: we are just getting started! Ahead of next year, 2022, we would like to share with you the humble entry of Jadaliyya's parent organization, the Arab Studies Institute, into its thirtieth year! We aim for this to be indeed just the beginning. Ok fine, we celebrated too much again. 
Jadaliyya's Editors (كلّن)
Features
One of the major collaborative projects co-organized by the Arab Studies Institute and featured on Jadaliyya is the one-year-long "Ten Years On" project (www.TheArabUprisings.org). Beginning in December 2010, mass uprisings swept North Africa and the Middle East, spreading from the shores of Tunisia to Egypt, Libya, Syria, Yemen, Bahrain, and the Eastern Province of the Arabian Peninsula. A "second wave" of mass protests and uprisings manifested during 2019 in Sudan, Algeria, Lebanon, and Iraq. The persistence of demands for popular sovereignty even in the face of re-entrenched authoritarianism, imperial intervention, and civil strife is a critical chapter in regional and global history. Along with sixteen other organizations and university units across the United States, Europe, and the Middle East, we launched this effort to mark, interrogate, and reflect on the Arab uprisings.
During this past year, we curated more than nine signature panels organized by us and our various partners, as well as other workshops, panels, roundtables, and book talks. We have also produced a resource portal on the uprisings on www.MESPI.org. More on this in the coming months as we wrap up the project. One of the signature panels produced an electronic roundtable that was published on Jadaliyya here, on "Archives, Revolution, and historical thinking." Look out for another roundtable from the project which will be published this month on "Teaching the Arab Uprisings."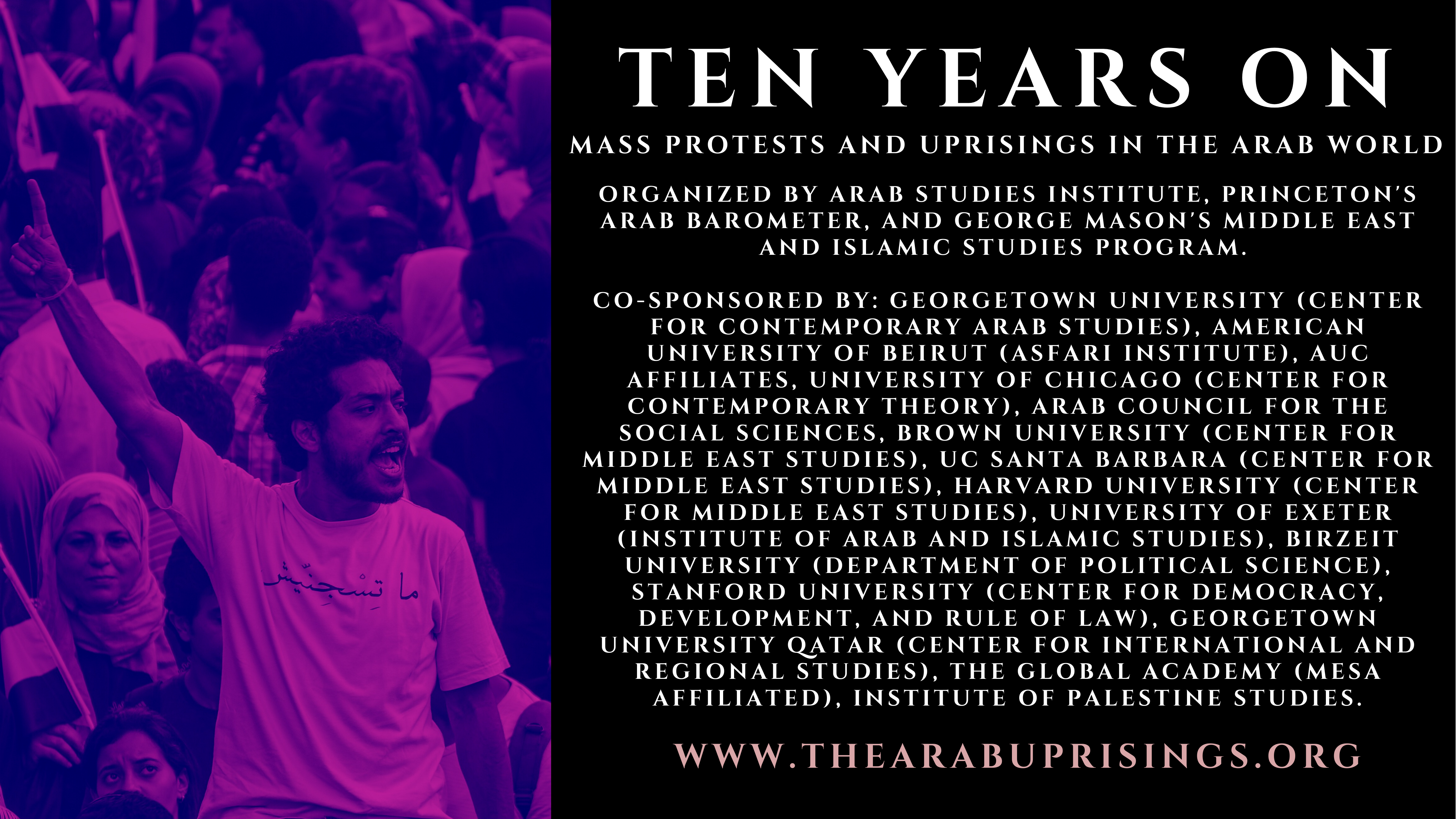 In 2021, the Arab Studies Journal editorial team has been proud to feature groundbreaking and insightful articles and reviews despite the pressures of the ongoing global pandemic. Our Spring 2021 issue featured articles that explore the production and circulation of knowledge from diverse disciplines and approaches. These included pieces featured on Jadaliyya, including this NEWTON regarding Farida Makar and Ehaab Abdou's piece, "Egyptian Textbooks in Times of Change" and reviews by Vladimir Hamed-Troyansky and Darcie Fontaine. Our soon-to-be-published Fall 2021 issue provides rich and empirically grounded explorations of culture, history, and resistance. It features a Special Section, coordinated by guest editor Brahim El Guabli, that rethinks the territorial, cultural, and human geographies of the Maghrib. It also inaugurates a new essays section of shorter pieces animated by the May 2021 Palestinian "unity intifada."
The past year has been a time of growth and renewal for the Knowledge Production Project (KPP). The continued disruption to in-person activities compelled the KPP team to focus our efforts on expanding our archive of knowledge production on the Middle East by bolstering our digital presence in a number of ways.
We embarked on an ambitious project to completely rebuild the Knowledge Production Project website and its series of data visualizations. This involved a complete overhaul of 150,000+ database records, and was a huge team effort to prepare and clean the data in time for the data visualization studio, Pitch Interactive, to design and build a completely new series of data visualizations. The new site not only provides researchers with a more modern experience, but also helps them search our archive and locate information faster than ever before. 
KPP's new and improved search tool and interactive visualizations series consist of three components: 1) a searchable archive and data visualization of 150,000+ records of academic, policy, and audio-visual production about the Middle East; 2) a Think Tanks Explorer which allows users to analyze and compare funding patterns and publication records across institutions; and an immersive Policy Networks data visualization which illustrates how power circulates within relatively confined networks by mapping the movement of individual experts to and from think tank and government positions. 
We launched the new Knowledge Production Project website at two conferences in the fall: the International Council on Archives (ICA) virtual conference and the Middle East Librarians Association(MELA) annual conference 2021 and received a very warm and engaged welcome within the library and archives communities in the U.S. and globally. In September 2021, KPP and MESPI launched Search Files, a bi-monthly podcast exploring trends in knowledge production and pedagogy on the Middle East. In Episode 1, the founder of Pitch Interactive data visualization studio introduced the new KPP website they had built for us, and discussed the challenges and opportunities that data visualization offers digital humanities projects. The first episode also featured a discussion on teaching films in the classroom. Episode 2 explored sources used by think tank experts and journalists and addressed innovative ways of tracking and visualizing this data and its potential biases. Dr. Alejandro Paz of the University of Toronto led the way in this discussion and presented the MediaCAT twitter-crawler project that KPP data is powering. This second episode also featured a discussion on MESPI teaching modules on Islam and the Environment for the online syllabus builder that is currently in development. 
The KPP team created database profiles, asking which questions the various databases could answer for future researchers, and pulling out remarkable facts about each database. These gems were too good to keep to ourselves, and we have started sharing these thought-provoking stats as part of the new KPP/MESPI podcast, under the "Did You Know?" segment.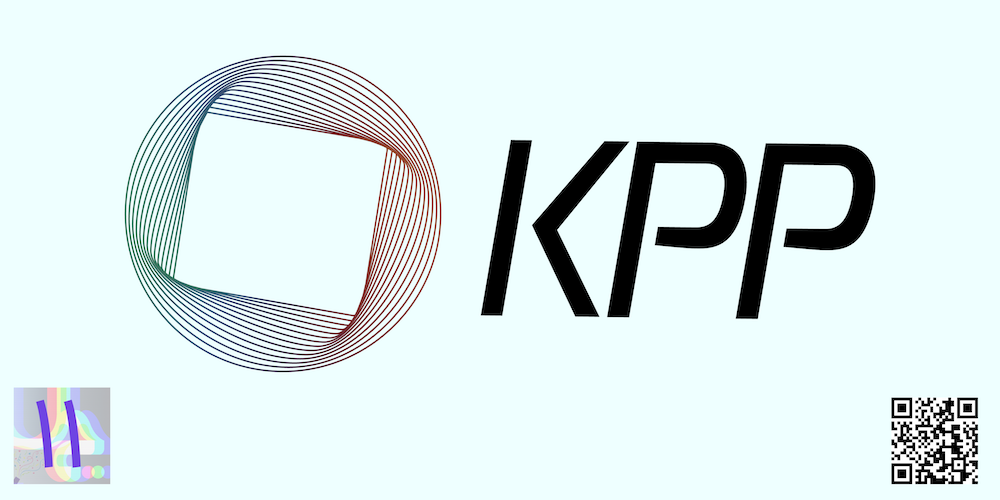 The Middle East Studies Pedagogy Initiative
This past year has been another building period for MESPI. Throughout the year, all of our modules have contributed to the Ten Years On project, including an Essential Reading from Elizabeth Kassab on Philosophy and the Uprisings, Engaging Books installments from Ginkgo, Stanford, and NYU presses on books recently released about the uprisings, and two Peer-Reviewed Articles Review bouquets curated around gender and cultural production of the uprisings.  
Perhaps an important development this year has been the development of two teaching modules: the Environment Teaching Module and the Islam Teaching Module. Both were featured in Episode 2 of the "Search Files" podcast, which aired in late November 2021 on Jadaliyya's Facebook page. These two modules serve as the prototypes for many more, both on specific countries and topics/themes. Look out for more on www.MESPI.org.
Focus on Broadcasting

As we shared at the outset, we have been fortunate to have had the infrastructure to excel with online knowledge production. Throughout the past year, the Arab Studies Institute has broadcast 98 live events. The success of these live streams is in good measure due to the fact that they were advertised and featured on Jadaliyya and disseminated through its broad reach. Jadaliyya's readership has proven to be a steadfast audience to these broadcasts. Centerpieces of our broadcasting developments include Live with ASI: A Month of Knowledge Production, Connections Podcast, the MEIS Podcast (Middle East and Islamic Studies at GMU), and the Ten Years On project podcasts. Several others have made a debut and more, including Theory Buzz, Search Files, Europe in the Middle East, and Transnational Solidarities. As we look forward to producing more broadcasts in the coming months, we remain committed to centering content that is engaging, informative, and accessible to Jadaliyya's audience. All foregoing podcasts can be found on the pages of Jadaliyya, or on www.StatusHour.com.

Pedagogical Resources and MELTs

The Middle East Learn & Teach (MELT) Series draws from the Arab Studies Institute's various branches and projects to produce collections of materials that enable readers, viewers, and listeners to access many of ASI's resources on key topics or major current events, all in one place. 
The series began in 2020 with a collection of materials curated by Jadaliyya's Syria Page editors. In 2021, Jadaliyya's Managing Editor for Special Projects, Carly A. Krakow, began producing the series—curating two additional collections so far. One was published in March 2021 to commemorate the eighteenth anniversary of the US invasion of Iraq and was accompanied by a panel event featuring Jadaliyya Co-Editors and Co-Founders Sinan Antoon, Bassam Haddad, and Maya Mikdashi along with Carly A. Krakow. Antoon, Haddad, and Mikdashi also spoke about their documentary About Baghdad (2004), for which they traveled to Baghdad along with fellow Co-Directors Suzy Salamy and Adam Shapiro in the aftermath of the US invasion and occupation. The next MELT installment was published in May 2021 in response to the expulsion of Palestinians from Sheikh Jarrah in Jerusalem. This MELT played a crucial role in ASI's response to the situation in Sheikh Jarrah and the ensuing bombardment of Gaza, bringing together the many past and new articles, panels, and more that ASI has produced on the subjects of expulsion, occupation, and settler colonialism in Palestine. The collection featured work by ASI experts including Noura Erakat, Mouin Rabbani, Sherene Seikaly, Ibtisam Azem, Lisa Hajjar, and many others.
MELT collections feature articles, interviews, video broadcasts, podcasts, and more, often including both English and Arabic materials from Jadaliyya, Status, Tadween, and MESPI. The collections have proven invaluable as pedagogical tools for professors and students, and as a great way for anyone looking to learn about a topic to access resources produced by ASI's editors and contributors. As Jadaliyya celebrates its eleventh anniversary, the MELT collections are a wonderful way for Jadaliyya readers to browse through the vast variety of materials we have produced over the years. Stay tuned for forthcoming MELT installments, and reach out to Carly A. Krakow with any thoughts or questions on the series.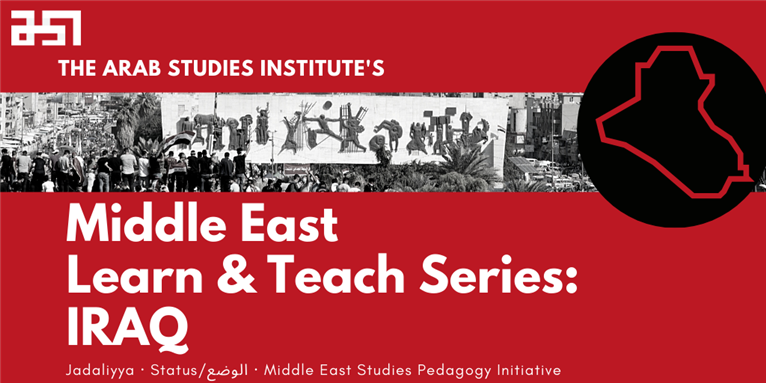 Featured Pages
Since its launch on Earth Day 2020, the Jadaliyya Environment Page has been a forum for innovative critical reporting and analysis of environmental issues—broadly construed—in the Middle East. The page has curated and published material on both historical and contemporary environmental problems, focusing on how environmental questions intersect with race and political economy, and using environmental analytics to reconsider issues like disease and infrastructure.
Last October, the page organized a public event on global forest fires, and has published two pieces dealing with the history and contemporary manifestation of forest fires in Turkey and the American West. Pushing back on a simplistic conflation of forest fires with climate change, together these pieces put contemporary fires into a longer perspective while asking what we should do when the world is on fire. 
Across issues and geographies, the page has emphasized environmental justice. Carly Krakow's piece on the toxic legacies of war in Iraq—examining the "slow" impact of depleted uranium and burn pits on Iraqis—builds on earlier publications examining the Iraq War and its aftermath from an environmental perspective. Going back further, the page has published several pieces which adopt environmental lenses to rethink some of the major monuments of Egyptian modernity, from the Suez Canal to the Aswan Dam. In her recent piece, Bayan Abubakr uses the idea of "water nationalism" to rethink Nubian displacement and the forging of Afro-Arab solidarities around the Aswan Dam.
The Environment Page has provided a platform for conversation about environmental questions. In November, it featured a roundtable on engineers and technopolitics that provided critical insights into the role of engineers in designing, manipulating, and managing the environment. In May, it featured an interdisciplinary roundtable on the climate crisis, in which scholars reflected on the methods their disciplines can bring to bear on the crisis.  
In addition to its written work, the Environment Page publishes the podcast "Environment in Context," produced by Huma Gupta, which has put out eleven episodes spanning topics from the ecology of capital in colonial Egypt to the creation of wetlands in Turkey. In June, the podcast released an episode with Ruth Wilson Gilmore discussing the need for abolition to be not just green but also anti-capitalist and internationalist—and what that might look like.
Stay tuned to the Environment Page for more critical analysis of pressing issues from the region, and if you have an idea, the page welcomes submissions at environment@jadaliyya.com.
Across the last year, Jadaliyya's New Texts Out Now (NEWTON) feature has published contributions from nearly one hundred authors and editors of groundbreaking and newly published works on the MENA region - bringing the total number of NEWTONs Jadaliyya has ever run up to over 650! We have had conversations on Egypt, Palestine, Iran, Iraq, Algeria, Lebanon, Syria, Armenia, Turkey, Saudi Arabia, Jordan… to give a sense of geographic scope, as well as regional and comparative pieces. NEWTONs have zoomed in on contemporary and historical issues related to war and conflict, migration and displacement, environment, diaspora, urban planning, political economy, activism, uprising, gender, sexuality, pedagogy, culture, and media - and much more. Below we dive into just a few highlights:
Lori Allen wrote a NEWTON at the beginning of 2021 on A History of False Hope: Investigative Commissions in Palestine, a piece which looked at how she fell upon investigative commissions as an effort to understand the intransigence of Palestinians' unfreedom. Allen spoke about the specific threads of analysis within her book and her hope to intervene in both critical legal studies and legal anthropology in order to open up the realm of international law. 
Priya Satia's NEWTON on her 2020 book, Time's Monster: How History Makes History, took an in-depth look about the role of the historian and of history in the British Empire, as well as her motivations and paths taken to arrive at this topic. In particular, Satia spoke with us about what conversations she hopes the book might inspire among her broad targeted audiences, as well as how this research fit into her broader academic trajectory. 
Deen Sharp'sNEWTON earlier on this year zoomed in on Open Gaza: Architectures of Hope, a book co-edited by Sharp and the late Michael Sorkin. Sharp discussed the contributions that made up the book, each offering aspirations for architecture and design in Gaza as well as the celebration or documentation of past and present projects. The NEWTON explained, among other themes, how the book is intended to integrate spatial perspectives further into the Middle East studies community.
Sara Roy also contributed a NEWTON on her recently published Unsilencing Gaza: Reflections on Resistance, an examination of the human dimensions of the occupation - and the resistance against both US foreign policy and Israeli policy toward Gaza and Palestine. Roy spoke of her hopes for the book, including its part in dispelling distortions and myths around Gaza.
At the beginning of 2021, Nazanin Shahrokni talked to Jadaliyya about her 2020 book, Women in Place: The Politics of Gender Segregation in Iran, an ethnography and history of women's everyday lives in Iran. Shahrokni spoke of the role that her personal, political and professional experiences together played in conceiving and writing the book, as well as the key questions and case studies forming the core of her research.
Michael Christopher Low produced a NEWTON on his book, Imperial Mecca: Ottoman Arabia and the Indian Ocean Hajj, and spoke to us about the key themes within his new work: inter-imperial connections, expertise, and material mechanics of frontier governance during the steam age mobility, Ottoman Empire, and British Empire in India. Low spoke in particular about his wish to write a book that deployed Arabic, Turkish, and Ottoman Turkish archival and secondary materials, and combined area studies expertise with Indian Ocean histories.
The NEWTON page also produced a series of NEWTONs from contributors of Joel Beinin, Bassam Haddad, and Sherene Seikaly's edited volume, A Critical Political Economy of the Middle East and North Africa, including conversations with Muriam Haleh Davis, Shana Marshall, Nida Alahmad, and Joel Beinin. While Haleh described the paths she took to write a historical overview of French North Africa from the end of the Ottoman empire to decolonization, Marshall told us about how she formulated her chapter on "Regional Militaries and the Global Military-Industrial Complex'' and spoke more broadly about the gaps in scholarship on the military. Alahmad told NEWTON about how her chapter of the book intended to decenter the positions of state, oil, and war in our understanding of Iraq's modern political economy. And Beinin explained how his contribution sought to counter traditional perspectives and understandings of US policy on Israel/Palestine while making suggestions for the types of research on political economy he hoped to encounter in the field.
2021 was a busy year for Jadaliyya's Palestine page in both Arabic and English. Among the highlights of the material produced are a detailed exposition by Ardi Imseis of the February 2021 International Criminal Court ruling that its territorial jurisdiction extends to the occupied Palestinian territories; Ashjan Ajour's article on the travails of Palestinian prisoners engaged in hunger strikes;  Co-Editor Noura Erakat's exposition of a major forensic investigation into the June 2020 extrajudicial execution of her cousin Ahmed by Israeli forces; and Hanadi Loubani's three-part series on the cultural geography of resistance in Jerusalem. In July Co-Editor Lisa Hajjar reflected on a study about the human rights organization Al-Haq that helps explain why the Israeli authorities recently decided to criminalize it, and more recently Co-Editor Mouin Rabbani contributed a lengthy essay interrogating the premise that the occupation has been overtaken by reality.  
The Palestine page and its editors were also heavily involved in commenting upon and analyzing the various dimensions of key developments during the past year, most prominently the May-June uprising throughout Palestine. It also continued to regularly featured book reviews, interviews, and podcasts about various aspects of the Palestinian struggle for self-determination.
The Jadaliyya Turkey page has had an active year, featuring a number of original roundtables, examinations of cutting-edge scholarship in the New Texts Out Now (NEWTON) series and timely interventions that place developments and crises in Turkey in comparative perspective. Two of our roundtables this year have brought together incisive analysis and a praxis of solidarity by engaging with critically important subjects and highlighting the work of scholars displaced from Turkey due to the authoritarian crackdown on higher education. These roundtables provided reflections on the Afterlives of the Gezi Protests and drew attention to the shifting Islamist sector in Turkey through nearly two decades of AKP rule. Identifying new questions and new directions for scholars of Turkey, the roundtables featured the work of a diverse group of eight scholars grappling with repression and resistance on the one hand and the political economy of Islamism on the other, with interdisciplinary perspectives from across the social sciences. Jad's NEWTON series featured path-breaking new scholarship on Turkey such as Ümit Kurt's work on the political economy of genocide—an exploration of class and the local dimensions of perpetration that remain understudied in the literature on the Armenian genocide—Aslı Vatansever's timely and resonant work on the academic precariat, and Banu Karaca's comparative exploration of art and state violence in Turkey and Germany. In another urgent and comparative intervention, Cihan Tugal drew attention to the threads tying events in Turkey to California over the summer with his analysis of the wildfires across the globe pointing towards toxic commonalities in contexts of politicized climate emergencies that demand (but have not yet produced) transnational response. Finally, the page has continually engaged with themes related to the displacement and detention of academics and intellectuals from Turkey and attendant politics of resistance as well as exile ranging from the recent experiences of students and faculty at Bosphorus University to the broader repression that has driven an ongoing exodus of scholars from the country, which we have taken up as a platform featuring webinars, articles, and calls to action.
Roundtables

Ten Years On Project: Roundtable on Archives, Revolution, Historical Thinking (Editor's Introduction) (4 October 2021)

The scholars gathered here reflect on the relationships between archives, revolution, and historical thinking. Traversing Syria from 1925 to 2011, Reem Bailony navigates revolt and rebellion past and present to reveal how archives sustain revolution beyond the narrow confines of success and failure. Reflecting on her research on Saudi Arabia as well as the social, economic, political, and infrastructural collapse in twenty-first century Lebanon, Rosie Bsheer poses hope and hopelessness as essential categories of analysis. Putting Revolution 1 (1968) in conversation with Revolution 2 (2021), Muriam Haleh Davis unfolds archives as spaces of constructing, destroying, and rebuilding self, state, and sovereignty. Traveling through the punctured, condensed, and elongated times and spaces of uprising, Pascale Ghazaleh narrates revolution and counterrevolution through archival access and practice in Egypt. Traces the Iraqi scholar Hibat al-Din al-Shahrastani, Sara Pursley exits the nation-state's temporal and spatial confines to uncover otherwise hidden ideas, sensibilities, and strategies of anticolonial revolution. Participating in the Lebanese uprising of 2019 and witnessing the country's collapse in 2020-21, Nadya Sbaiti invites us to bring our emotions more explicitly into our archival readings of violence, of the threat of massacre, of the imaginings of a better future. Finally, Naghmeh Sohrabi, although not joining us on March 26, graces our pages here. Detailing a brief post-revolutionary window in 1979 Iran, when rebels where wresting control of SAVAK archives, she narrates revolution and historical thinking as a curiosity to know one's own life, those trivial details captured in what she calls "bureaucratic life-keeping."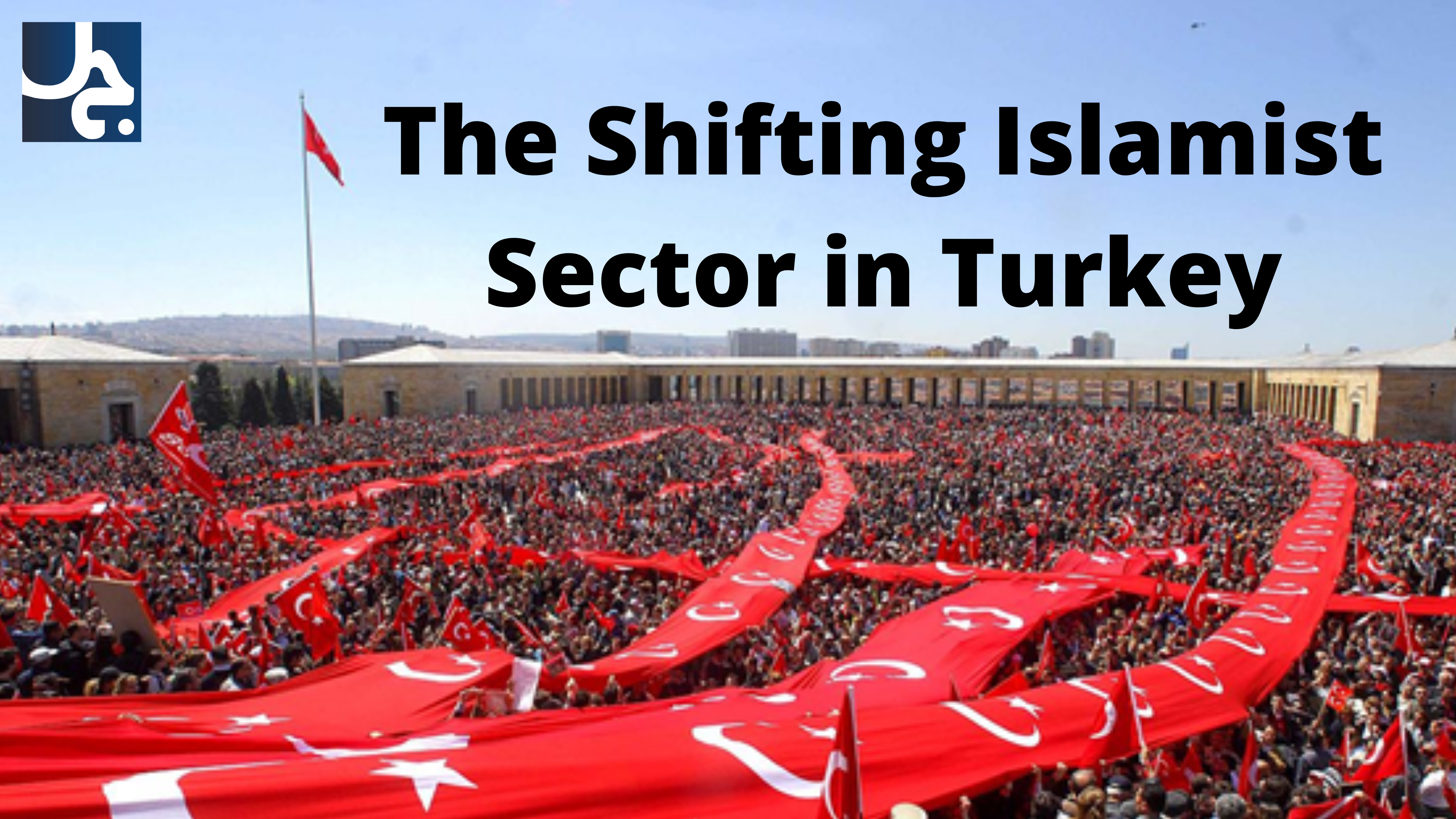 Editors' Introduction: The Shifting Islamist Sector in Turkey (7 September 2021)
Much has been written about the purported Islamist turn in Turkey under the ruling Justice and Development Party (AKP) over the last two decades. In its first decade in power, the AKP frequently presented itself as the Muslim and Turkish equivalent of Europe's Christian Democratic parties. Indeed, much of the coverage of the party and of its leader, Recep Tayyip Erdoğan, in the European and North American media offered flattering portraits of a political movement combining socially conservative, Islamist origins with a pro-business orientation that enabled it to secure the support of the middle class across the country. The ascendance of religiously conservative business interests and a political party that harnessed the electoral power of that sector was depicted as a vehicle for the consolidation of democracy in Turkey. In this roundtable, "The Shifting Islamist Sector in Turkey," we have again invited an expert set of scholars to consider the ways in which the Islamist sector, too, has been shifting over the two decades of AKP rule.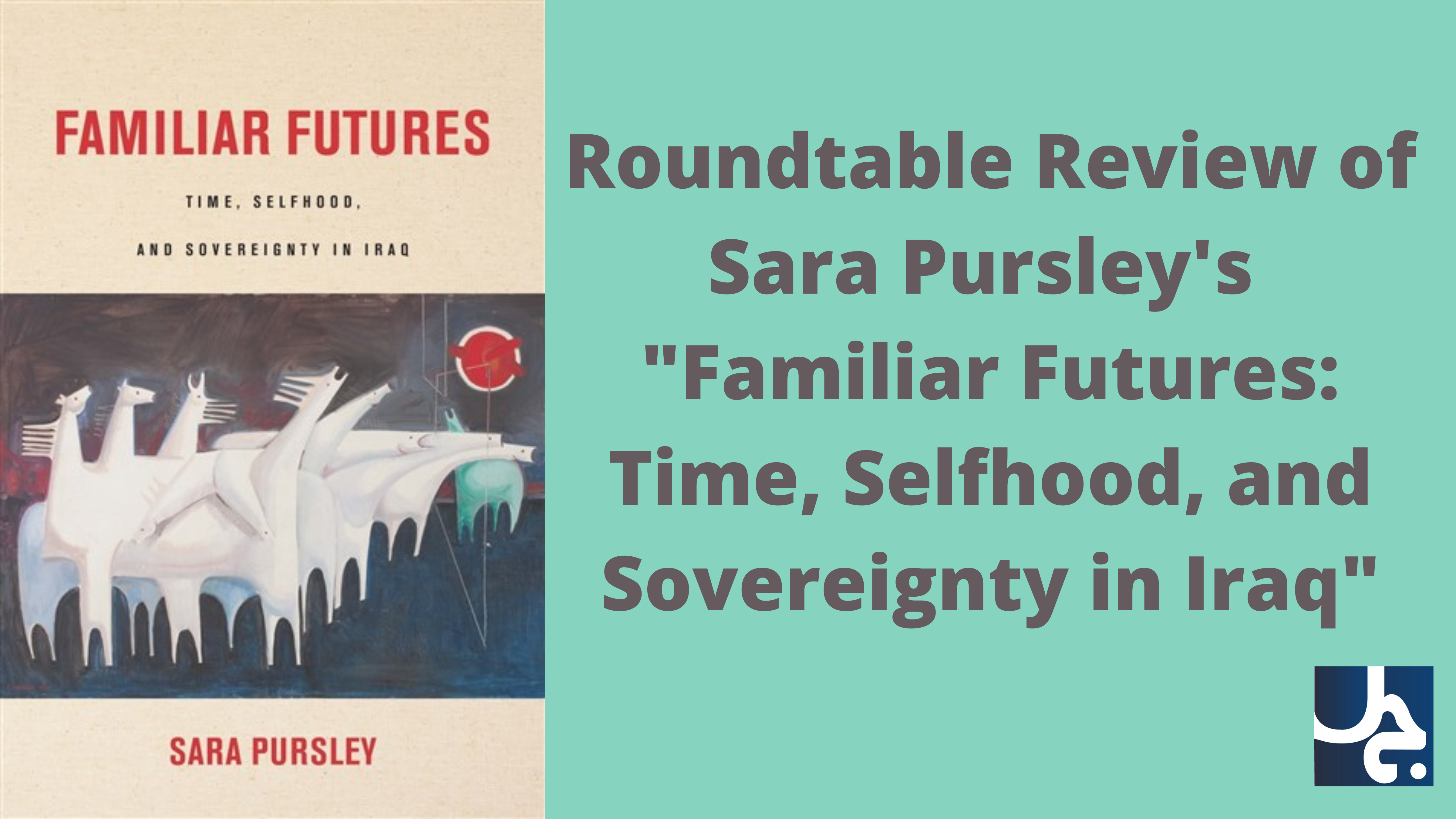 Roundtable Review of Sara Pursley's "Familiar Futures: Time, Selfhood, and Sovereignty in Iraq" (8 July 2021)
Familiar Futures makes important interventions in Iraqi historiography while offering new and compelling readings of well-worn narratives. Yet the book's significance, as the following roundtable reviews show, transcends this subfield of Middle East studies. By giving us a conceptual and methodological toolkit that is transportable, the book also has much to offer scholars of other geographical areas and disciplines. In this roundtable, four scholars from a variety of disciplines with a range of expertise, address some of the book's main interventions; other conversations are necessary to do justice to this work of intellectual breadth.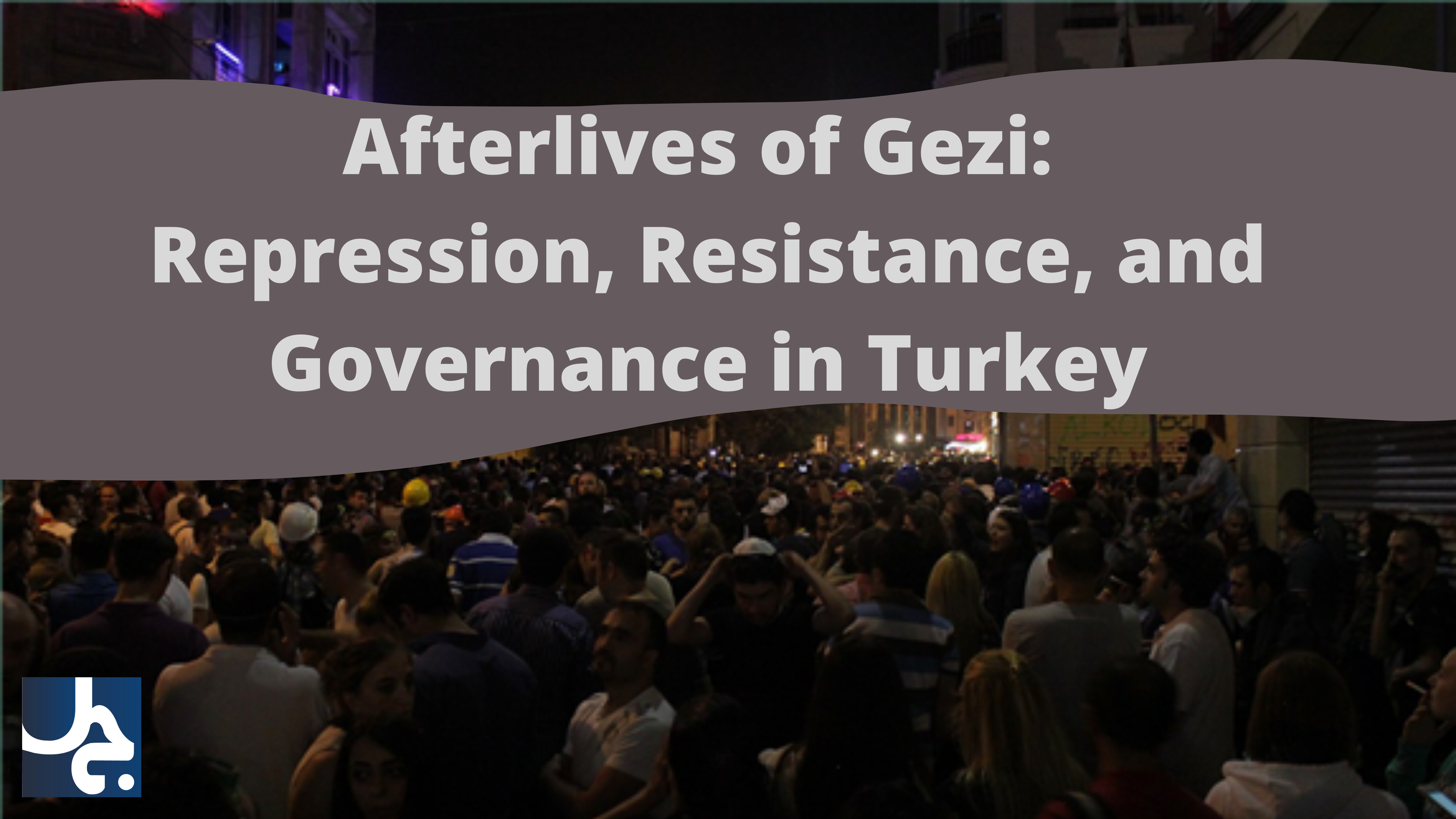 Editors' Introduction: Afterlives of Gezi: Repression, Resistance, and Governance in Turkey (16 June 2021)
This summer marks the eighth anniversary of the Gezi Uprisings; in late May and early June 2013, the call for "resistance everywhere!" that reverberated across the country opened up new dissident visions of Turkey. As Selin Bengi Gumrukcu notes in her contribution to this roundtable, Gezi's anniversary is noted by both the AKP government and by oppositional forces—obviously, with very different valences and for very different reasons. More generally, as Aslı Bâli reminds us in her response, 2021 marks a year of anniversaries for uprisings across the region: from Tunisia to Egypt to Libya to Yemen to Syria and beyond. In this roundtable, "Afterlives of Gezi: Repression, Resistance, and Governance in Turkey," we have asked the contributors and respondents to reflect on the continuing effects of the Gezi Uprisings. But in asking us to attend to the "afterlives of Gezi," this roundtable should not be understood as simply marking a commemoration of Gezi as an "event" in the past; rather, it should be understood as an attempt to contribute to the continuance of its spirit into the present and the future.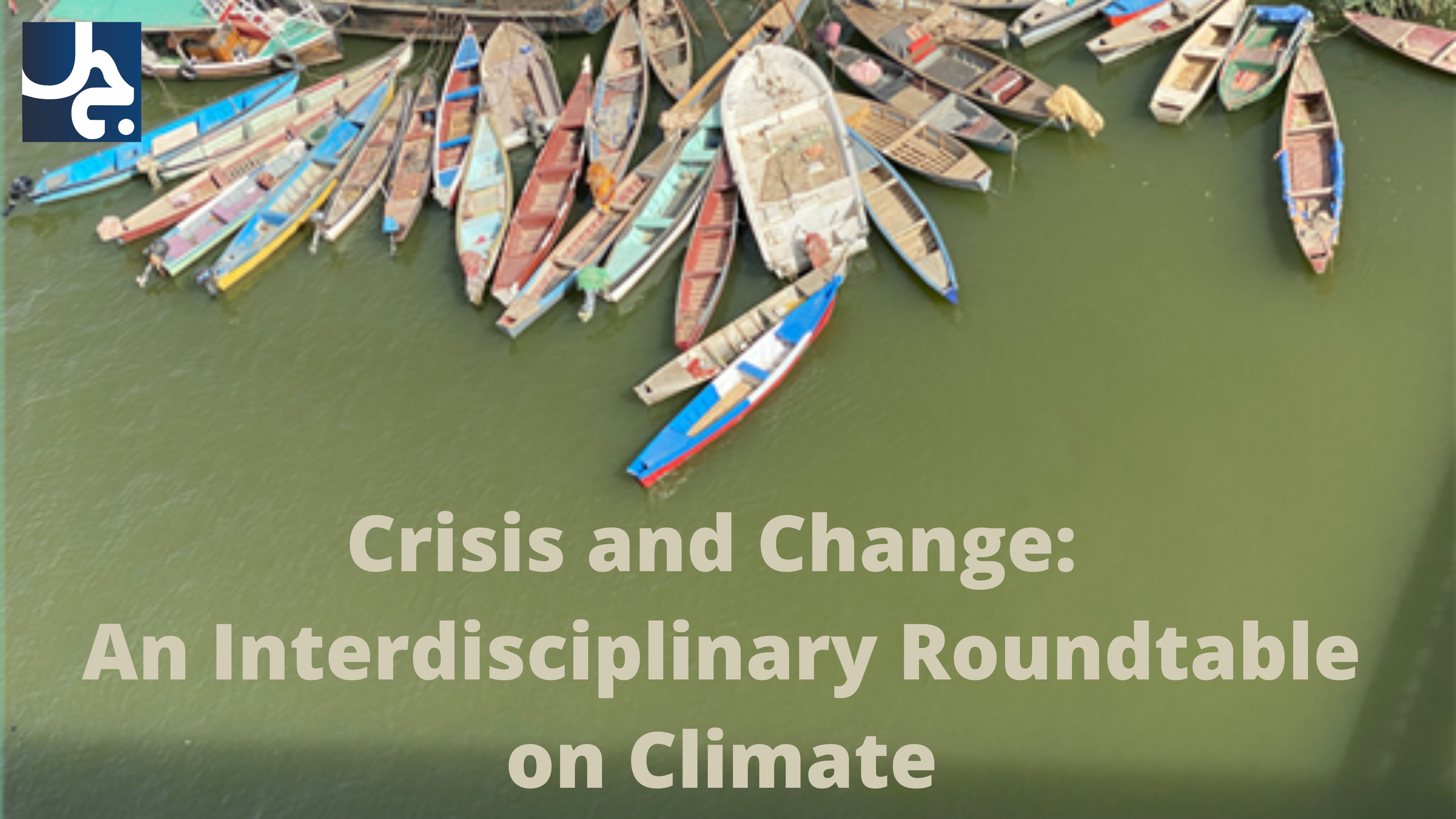 Crisis and Change: An Interdisciplinary Roundtable on Climate (26 April 2021)
This roundtable is a conversation about how anthropology, history, and comparative literature, and the interpretive social sciences and humanities more broadly, are addressing the climate crisis as it pertains to the Middle East. By bringing together scholars who work directly on the climate crisis with those whose work addresses these questions more indirectly, it seeks to inventory the methodological, critical, and institutional tools we possess to engage the crisis, and to imagine the new tools we need to create. Today's climate crisis emerged within imperial power relations and capitalist ethics that have long impoverished, disenfranchised, and devastated communities throughout the Middle East. But this crisis distinguishes itself by forcing us to reconsider questions of scale and duration. It invites new thinking about the local, regional, and global, and new reckoning with temporal frames that exceed those in which politics have conventionally operated. These kinds of new thinking are urgent, as the climate crisis no longer hides behind the horizon of expectation. Climate effects have arrived faster than many—even as recently as a decade ago—expected, and are escalating in unexpected and devastating ways.
Roundtable on State Islam after the Arab Uprisings (23 November 2020)
In the early stages of the Arab uprisings, one of the questions frequently posed in the analysis of the mass mobilizations revolved around the role that Islamists would play in post-authoritarian transitions. In the interim, a phenomenon that came to demand more attention from observers was the construction of theological arguments and the enlisting of Islamic institutions in support of the authoritarian resurgence. This roundtable facilitates critical discussion on the state of this question ten years after the Arab uprisings. What is clear in the present dynamics of "state Islam" and "regime Islam" is a resurgence of autocracy which uses distinctly modernist arguments to justify itself and has co-opted state-dependent Islamic institutions and major scholars in Egypt, Saudi Arabia, the United Arab Emirates, and elsewhere in order to provide an "Islamic" justification for this autocratic backlash.  To facilitate informed discussion on this theme, the CCI page editors invited Nathan Brown, Walaa Quisay, David Warren, and Muhmmad Amasha, scholars whose work focuses on religion and authoritarianism, the politics of the ulama, and how Muslims respond to the political challenges of tradition and modernity, to address questions on topics ranging from scholarly independence and the complex interdependence between state institutions, domestic and international legitimacy and the thought and personalities of major figures like Abdullah bin Bayyah to the impact of Gulf States' agreements to normalize relations with Israel at significant incentivization from the United States.
Introduction: A Roundtable on Engineers, Technopolitics, and the Environment (16 November 2020)
Scholars and policymakers write on the Middle East and North Africa through a one-dimensional focus on geopolitics, war, corruption, and repressive regimes, which often overshadows complex environments and environmental challenges. When they discuss the environment, they have historically resorted to simplistic and deterministic accounts of scarcity and overpopulation. But even a cursory review of recent events highlights the socioecological complexity of life across the region. What does a focus on this class of technical workers and body of knowledge reveal about historic and contemporary power structures of and struggles over the environment? This roundtable features a group of scholars whose research varies across histories, geographies, and engineered forms, spanning from water and sanitation infrastructures to dams and floating power plants. Across these diverse contexts, engineers are key actors that take part in designing, manipulating, and managing the environment.
Is Abolition Global? Iran, Iranians, and Prison Politics (Part 1) and (Part 2) (2 September 2020) 
Initially founded as a movement to abolish slavery across the Americas, Black feminist scholars and activists such as Angela Davis, Ruth Wilson Gilmore, and Mariame Kaba recovered the language of abolitionism to critique the US prison system following the formal declaration of equal civil and political rights in the 1960s. Since the 1980s, the United States has expanded its prison system to roughly a quarter-million people, the largest prison body per capita in the world. Michelle Alexander names this age of mass incarceration "the New Jim Crow," due to the disproportionate number of Black prisoners. Some have applied this critique of prisons and police beyond the territorial United States, notably in Palestine and Brazil. Scholars have also discussed and critiqued modern prisons in Iran at length, from Ervand Abrahamian to Darius Rejali and recently Nasser Mohajer. Recently, Middle East activists and writers concerned with peoples incarcerated during the COVID-19 pandemic have added their voices to the global call for abolition. This roundtable adds to these efforts, asking does US-based research and activism organized around abolitionism provide insight into the condition of imprisoned Iranians in the Islamic Republic and abroad? Can and should the call to abolition prisons be a global one? Do these disparate settings need movements and languages attentive to their specificity?We asked three scholar-activists of Iran and Iranians whose work concerns prisons and abolition transnationally to address these questions in conversation: Australian philosopher, translator, and community advocate Omid Tofighian and Jadaliyya Iran Page co-editors Golnar Nikpour and Naveed Mansoori. Their responses appear as a two-part roundtable.
Roundtable: Protest and Social Mobilization in the Time of COVID-19 (20 August 2020)
Following the worldwide depression of protests in spring resulting from COVID-19, social mobilizations again ramped up over the summer across the Middle East, North Africa, and the United States. These protests, though reacting to different local stimuli, were nonetheless linked by COVID-19 and the obstacles it presented to organizing. Yet, COVID-19 also seemed to present a prime opportunity to numerous states that sought to expand anti-popular measures under the guise of dealing with the disease, including state-sanctioned brutality by police and other security forces, increased neoliberal privatization of the commons, and a lack of accountability among the political and managerial classes to the humanitarian catastrophe of the pandemic. In response, protest movements of various stripes have engaged in bold new forms of organizing that reject the autocratic and capitalistic logics linked to the spread and duration of COVID-19. This bouquet of analysis explores several different aspects of the interrelationship between the COVID-19 pandemic and social mobilization in the Middle East, North Africa, and the United States. It features analysis on Algeria (Muriam Haleh Davis and Thomas Serres), Iraq (Zahra Ali), Lebanon (Nadim El Kak and Ghiwa Sayegh), higher education in the United States (Anthony Alessandrini, Kylie Broderick, and the UCSC COLA Agitation Committee), race in the United States (Juan Doe and Rhea Rahman), and the general state of protests for feminist groups in the Global South (Nadje Al-Ali).