The mainstream media's coverage of all things Middle Eastern is almost always toxic. In times of war, this toxicity exceeds tolerable levels. I'm not referring to the war in Afghanistan, recently brought under greater attention courtesy of General Petraeus's body and those with access to it, and not the piling corpses of civilians being slaughtered there.
No. I meant Gaza, where Israeli bombs continue to rain death and destruction from air and sea killing scores of civilians. There are fears of an imminent ground invasion. Take, for example, Richard Engel, the award-winning NBC News Chief Foreign Correspondent. In his report aired 16 November, he assured viewers that "so far Israel has been using surgical strikes." Never mind that news reports had already revealed the heavy toll in Gaza among civilians and especially children (including the eleven month-old baby of a Palestinian who works with BBC Arabic). We were told that "civilians are dying too," but we are shown ample footage of Palestinian rockets being fired from Gaza. The total of Israelis killed by these rockets since 2004 is twenty-six. In its 2009 assault against Gaza alone, Israel killed nine hundred sixty Palestinian civilians, including two hundred eighty-eight children and a hundred and twenty-one women. None of these figures are worthy of inclusion. The main thrust of the report focused instead on the ties between Hamas and the ruling Muslim Brotherhood in Egypt and how the former is emboldened because the Arab revolts brought the latter to rule Egypt. The icing comes at the end when Engels tells Brian Williams: "An Israeli incursion [read: invasion] could be very bloody and could risk inflaming the entire region, but that, Brian, could be just what Hamas is hoping to do."
So even though Israel itself had broken the truce a few weeks before and then assassinated its own subcontractor (according to Haaretz) it all boils down to Hamas's desire to "inflame the entire region." There is no mention of the political gains Israeli politicians usually harvest alongside and after these invasions or of the genealogy of the current moment.
Alas, none of this is surprising. We live in a militarized culture and US mainstream media is ideologically, if not materially, embedded with the aggressors. In all fairness, however, Engel's empathy (or attempts at empathy) with Palestinian civilians was evident in one of his tweets. On 16 November he tweeted the following jewel from Gaza city:
"So many drones over #Gaza city it sounds like everyone is out mowing their lawns in the dark"
The drones hovering over Gaza (and those guiding them) would be quite giddy to know that their good work is likened to that of lawnmowers (weeding out unwanted growth and making sure the terrain is green). Mowing life is more like it.
Has Mr. Engel noticed that Gaza is not an American suburb? It has often been described, quite accurately, as the largest open-air prison in the world, with a population density of 4,500 humans per square kilometer. Its 1.6 million inhabitants have been subjected to a brutal blockade by Israel and its military for three years now. One million of Gaza's inhabitants are refugees from 1948 and 1967. Refugee camps, and there are eight of them in Gaza, do not usually come with lawns and spacious yards. According to the United Nations Office for the Coordination of Humanitarian Affairs (OCHA) in the occupied Palestinian Territories, ninety percent of Gaza's drinking water is unsafe to drink, forty-four percent of Gazans are food insecure, and about eighty percent are aid recipients. This is the result of sixty four years of military occupation and continued wars and a blockade.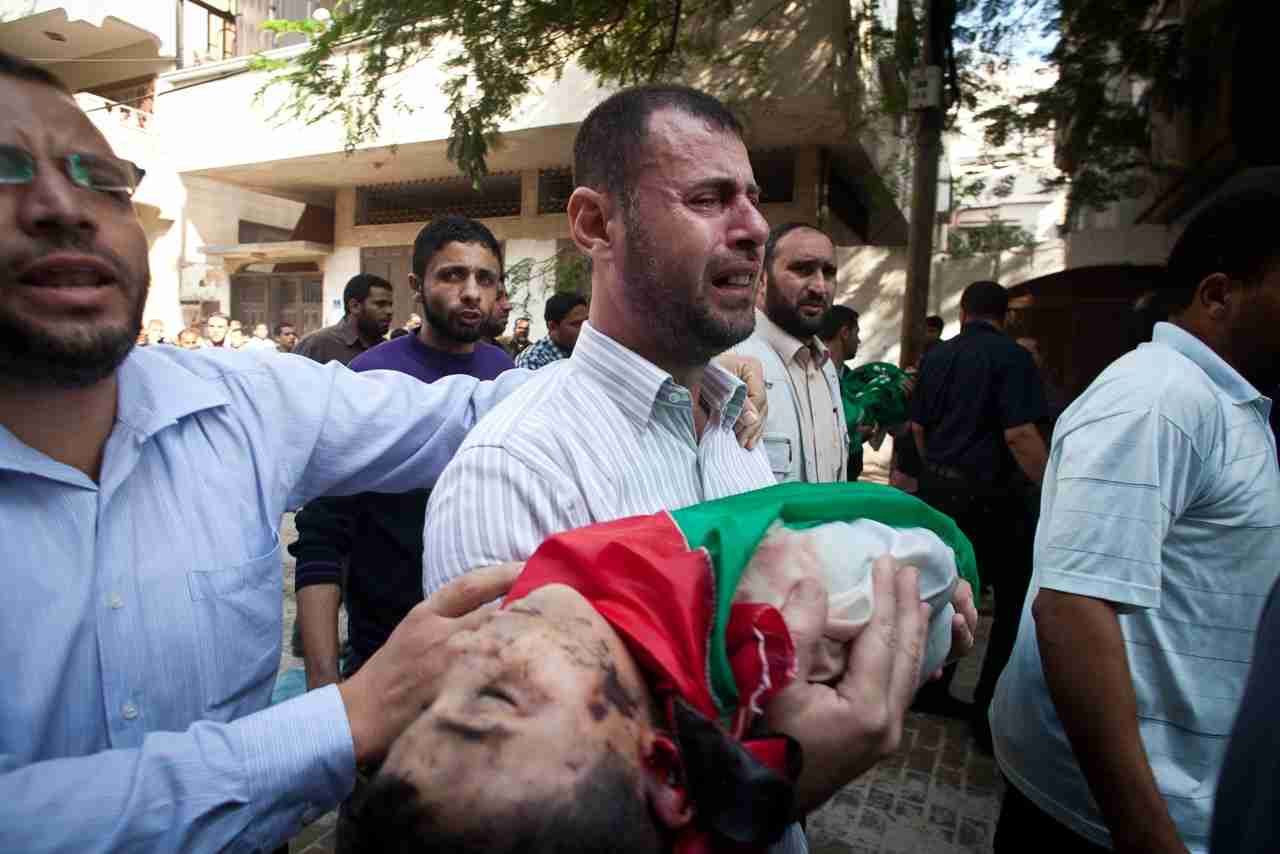 [The father and one of only two survivors of the al-Dallo family holding the body of his youngest child during his family`s funeral. Ten members of the al-Dallo family (five of them children) were killed during an Israeli air strike on a three-story building in Gaza City on 18 November 2012. Photo by Eman Mohammed.]

One can mow their lawn in the dark if and when s/he lives in a sovereign state, free from military occupation and state terrorism, free to move and live without fear.
The sound of Israeli drones hovering over Gaza, or any drones anywhere for that matter, should not be aestheticized unless one identifies with the drones themselves, as opposed to the humans they are hunting. Drones are the messengers of death and destruction. They are nothing like your neighbor mowing his or her lawn at night! So far they have helped kill fifty-five Palestinian civilians, including twelve children, and injured more than five hundred others.
What does that sound like?
[Upadte (Thanks to Marilyn Hacker): It seems that the grass simile has its own history in Washington, D.C. In 2010 an expert at a seminar said of the 2009 Israeli attack on Gaza "It`s unfortunate, but every once in a while you have to mow the lawn."]